DOUG ROBINSON: Solo/Piano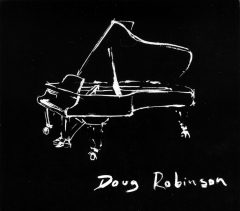 As I heard the first strains of "Tu y Yo No Más," the first selection on Doug Robinson's Solo/Piano, this pleasant music had me guessing that this disk would be some sort of new age sampler. I expected to hear something along the lines of George Winston's impressionistic ramblings. I thought that after about eight or ten minutes I'd be hitting the eject button on the CD player and reaching for one of my Ruben Gonzalez recordings.
But boy, I was oh so wrong.
Solo/Piano is just that: local musician Doug Robinson performing his solo piano pieces. In these 17 compositions the veteran musician borrows from classical and popular song. I hear a bit of Tin Pan Alley and Broadway, with a strong influence of Debussy and Ravel. It's apparent that a great deal of thought went into these compositions, each one standing out as a unique creation. The emphasis is on lyricism and remaining true to the short song form, such as was established by Felix Mendelssohn with his Songs Without Words. And although they are in a familiar form, the short song format, the compositions are never predictable or trite. In the space of a few minutes, Robinson makes a strong musical statement and is able to take his listeners on musical excursions that are sometimes somber, sometimes slightly whimsical, but always intriguing. I found myself being drawn in again and again as Robinson played each piece. In particular I enjoyed the composition "January 10, 1959 (for John and Aline)" with its beguiling theme.
In the liner notes, Robinson mentions that he performed these pieces on his Kawai baby grand piano. With so many musicians resorting to electronic keyboards, it's nice to hear a good instrument used so well. Kudos to Ken Bassman, who assisted in the recording of this CD. Bassman joins Robinson on acoustic guitar for one of my favorite tunes on the disk, "Aldama Mamá." It is strong and bluesy with some surprising twists and turns in the mix. And compliments to Ron Marinelli who mastered Solo/Piano at Blue Monsoon Studios.
The piano, the recording, ultimately the best thing about this CD is Robinson's playing. Never venturing beyond a mezzo forté, and only straying occasionally into that range of dynamics, he plays with maturity. (Well, he could have given us a little more forté from time to time.) He conveys a great deal of thought and emotion without coming close to sentimentality. Can it be said that there is wisdom in a performance?
Robinson received his musical training at Crawford High during that school's musical halcyon days when notable musicians Hollis Gentry and Nathan East were students. He started out as a drummer, and that training is on display with this disk. He plays with a deft sense of timing unusual in keyboard players, particularly on the pieces in ¾ time.
Each one of the compositions on Solo/Piano is a real gem, performed by a truly talented musician.
Available at cdbaby.com/cd/dougrobinson3