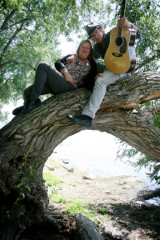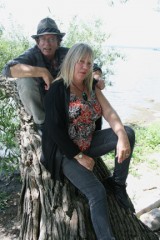 A Traveler's Guide to Burnt Boats and Fresher Tomatoes While Redefining What a Life in the Music Business Can Be Through Irresponsible Living

The phone rang.
The first thing I noticed was the deep, truck-like voice on the other end, delivering one of the cheeriest introductions I can remember.
"Hi! This is Lafe Dutton calling from Vermont. Howareya? I'm calling to check that you received my promotional package!"
I'm wondering why this folkie from Vermont is calling me in Ocean Beach. "Yes, I did, thank you. What can I do for you?" I had received his promopak about a month prior.
"I got a gig in OB. I was wondering: can I rent your PA?"
And so it begins.
I rented him the PA. Set it up for him. Checked out his set. He played like he was grateful, so I booked him for another gig before he toured to the next town a few days later on the basis that A) his phone introduction was refreshingly professional, B) he had class. His kind modesty was such that I could tell that it was the product of a bigger professional music experience than the other calls I typically get (and my phone never stops ringing), and C) he followed through on his word, like a man.
In just a few short days I went from, "Who's the guy from Vermont with the weird name to: this guy is cool, serious, fun." We hit it off.
And then he split town.
The phone rang.
Four months later, "Hey, dude, it's Lafe! Howareya?!"
"Hi Lafe! How are you? I'm at SXSW right now, so I only have a few minutes, what's up?" I was busy but happy to hear from him.
Without any hesitation, he says, "SXSW? Oh Cool! Hey, stop by Rounder Records if you get a chance and say hello to Ken Irwin for me. It's been a while. Watch his face when you do! Hahaha!"
I ran into Ken the very next night at a Mexican food joint that was featuring Texas Swing. Ken looked at me like I was a Martian, pausing, trying to figure out who the hell I was (he couldn't place me), and asked how Lafe was doing.
I told Lafe about the incident the next day and he told me about his history with the man, along with his days with Warner Brothers, and then says, "I'm interested in recording an album with you. Can you give me a quote?"
Pretty soon he's flying out from the East Coast to allow his lovely partner Coco and me to meet personally, check out the studio, and discuss the scope of the project. Little did I know that Lilla Beagle, their beloved Beagle, was part of this package deal. Anywhere they go, Lilla goes. We recorded the album.
By now I've recorded three albums for him and Coco. We've become partners, too, due to our artistic affinity and functionality, as well as becoming trusted friends. And that's why I'm the right guy to write this article. I know 'em almost as well as Lilla does.
The biggest chunk of the story falls under the heading of songwriting. In over 30 years of music I have yet to meet anyone who asserts the craft of song as much as these two do. They take the attitude of "Why bother performing or recording a song if it isn't a great song?" They're quite serious about it. They come in with their act together, all right, but they are still working out lyrics right through the final mix, advancing any song if there is a chance to do so. Many times I've watched them stop a take, unsatisfied with a lyric, take a break, and step out side to decide to rewrite, for instance, an entirely new verse three. They discuss. They laugh. They argue. They drag me into all this for third person objectivity, "Hell, you're the producer, which do you like better, this or that? We need something that rhymes with 'bandito'," and stuff like that.
They are very demanding of the process. Very demanding of me. Impressively, most demanding of themselves. I've loved every bit of every long haul, because they've always striven to be their very best as songwriters. Kind of a sacred practice for them. And it shows. They are all over folk radio in a lot of countries. With a calendar crammed with gigs all over the country.
One day I asked them, "What are you gonna do with all this?
Their reply: "We're gonna tour farmers markets and live the dream! Oh, and we're gonna get an apartment in OB and move here." They, in fact, tour for at least half the year. And they got the apartment.
It's a long story.
So, I'll let them tell it. Meet Coco Kallis, Lafe Dutton and their iconic sidekick, Lilla.
CS: You each have a unique and interesting past in music. Please tell me about it.
Coco: I was six. My earliest memories are sitting in front of my grandfather's phonograph, playing big band 78 rpm records. In fourth grade I came home after an instrument demonstration at school and told my father I wanted to play the oboe. They started me with private voice lessons instead. I went to Boston after high school and became immersed in the folk scene, playing coffee houses and clubs. When the rock musical Hair decided to open a Boston company I auditioned and made the cast. We played eight shows a week at the Wilbur Theater for a whole year. It was a fabulous show to be involved in. After Hair closed, I moved to Vermont and had a country band called Coco and the Lonesome Road Band for many years. We were well received and had a pick hit in Billboard and Record World with a song I wrote called "New England Song," which we recorded in Nashville. I was flattered to receive the Songwriter of the Year award in Maine for that song and the band received the Most Promising Band award from the Eastern States Country Music Association. After the Lonesome Road Band, I went back to college, got classical vocal training, and got my degree in music and education. I then taught music and drama in a K-12 school for 18 years. Rebecca Pidgeon, the actress-songwriter is a friend. She had me sing backing vocals on three of her CDs and recorded one of my songs "MacDougall's Men" from a group of songs I call "New Songs of Auld Scotland." I appeared on "The Conan O'Brien Show" with her twice. That was a hoot. He is very tall!
Lafe: I started with a small independent label in Vermont where I signed and recorded projects with Doc Watson, Dave Van Ronk, etcetera, and then went to a larger independent in California — Music for Little People — as international sales manager. There were no sales people, just me, so I got to make up my own title. Warner Brothers bought the label and got me as a bonus. So I toured the U.S., Europe, and Hong Kong as the label rep for such artists as Sweet Honey in the Rock, Ferron, Native American Projects — really cool people and fun projects. Took my guitar everywhere.
CS: You are both incredible songwriters. What does songwriting mean to you?
Coco: For me it's the ultimate form of expression. When the right marriage of words and music happens it's a feeling like no other. The closest is falling in love. I've gotten goose bumps, I've cried, I've been elated, I've released a lot of crap, and I've become other characters in songs and had their experiences as I've written them. When the writing clicks it's a total immersion into something bigger than me.
Lafe: A great teacher can change your life. A great novel can change your year. A great song can change your moment, and I love songwriting that accomplishes that.
Everyone who's done any kind of writing knows the awe and the adrenaline rush that comes from watching a character or story write itself. In the song "Charlene" I didn't know that the old guy in the second verse was going to turn out to be Charlene's dad. When you write a lot, those surprises happen all the time.
When a song writes itself, and you can't stop singing it for days, you know you've got a good one, maybe even a great one. Songwriting has been my lifeline, the only constant in all my years on the planet. Everything else has changed, but the songwriting has given me the same joy.
It's also a catharsis. In times of pain, grief, or fear, it is an outlet — sometimes a meditation, sometimes an angry outburst, sometimes philosophical. At all times a tool for introspection or humor. I love writing funny songs, and Coco and I have spent many hours writing what we call steering wheel songs: verse after silly verse in and out of truck stops, Greek restaurants, and rest stops.
When I was a teenager the songs of Bob Dylan had a tremendous impact on me. I thought songs had the power to change people, and I assumed everyone was impacted like I was by music. It's only recently that I've come to believe it's only a minority of people that are affected, and that the majority of the population doesn't even listen to music anymore except as background.
We have family and friends we'll stay with as we tour who never ask us to play them a song! Imagine a poet visiting you and you don't take the opportunity to get a private hearing. It astonishes me, but that's simply my bias. Some folks like cooking, some like eating out.
CS: When it comes to songwriting, you are very "free" in that process, yet very "pragmatic" — the science and art of becoming "one." How does this process work for you?
Lafe: Simple: we usually have the music or a melody before we start writing, or one of us comes up with a first verse and we find the music for it. Then we free write — no editing, just sing and keep singing, write more verses, write until the chandelier falls down and you just can't write no more.
Then take a break and edit.
Coco: "Free" and "pragmatic" describe Lafe's songwriting much more than mine, I think. I still struggle mightily with the Censor, who shuts me down before I really get going a lot of the time. Many of the really good songs I've written have come to me all at once because I just start hearing them, both words and melody, in my head. Then if I'm patient and really stop and listen, I get the whole song. I never know when that's going to happen… when the Muse insists on singing to me. I've had a lot of surprises and have even had songs come that I really didn't want to write but the Muse wouldn't shut up so I HAD to listen and let them through. I was once driving down Interstate 89 in Vermont and started hearing this song about a man dying on a battlefield in Scotland in1745. I said out loud, "I don't want to write this" and tried to shut it out. It wouldn't stop, so I finally said, "Okay, okay, I'll listen!" A few miles down the road I pulled over and wrote down all six verses.
Since Lafe and I have been together, my songwriting has changed some. Now I often sit down at the page and write lyrics rather than "listen" for a whole song although the words usually come with a melody attached. If I come up with something that really speaks to me, I will take it to him. He is a good editor and has great suggestions for improving how you say something, for guiding you away from the cliches. My melodies are usually quite simple and straightforward and he often comes up with a whole new melodic direction and feel for what I've written. We've also written a lot of songs together in the car, just tossing lines back and forth. But I also have a lot of songs no one has ever heard.
CS: Farmers markets are not usually considered the obvious choice for a touring mechanism. But it's what sets you apart from the pack. How did that happen?
Coco: I'm letting Lafe answer this one.
Lafe: Our mentor, Jeri Goldstein of PerformingBiz dot com told us to go where the people are until the people will come to you. We played on the streets of Boston, and friends thought we were crazy. Yet it paid all our bills. We fell in love with playing farmers markets: the cause, the atmosphere, and the like-minded people who bought our CDs by the pound. Other musicians and promoters turn their noses up when they hear this. But as Coco says, "If Woody Guthrie was alive today he'd be playing farmer's markets."
Making art pay has never been easy. Steven King is quoted as saying, "You can get rich at writing, but you can't make a living at it." Most musicians who claim to make a living at it are actually not performing, and they are kidding themselves. They teach guitar, they run open mics, they buy and sell instruments, they write jingles for radio or write for TV shows. Dumb. Did you want to make a living or make music?
They could just as easily line themselves up with a cause they are passionate about: cancer, animal rescue, or the homeless. And then go out and help these groups raise money to put on benefit concerts. And get paid just like the soundman or the rental hall. All the information to do it is out there but musicians get stuck in the "I'm special, I make art" trap. You're not special. You're a plumber. Get good at it and go unplug toilets. Wanting fame is not the same as wanting to make music.
Our business plan is to play markets, sell CDs, and sign people up to our mailing list. Then the next time we tour through, we see if any of those people want to host a house concert. Then we invite all the others who signed up to come to it. We create our own audience by playing to thousands every week. Like all sales it's a numbers game, but we play it by supporting a cause we love: eat fresh, eat safer, buy local, support your community, and know where your food comes from.
CS: What are your goals with your music?
Coco: I play some guitar, can make chords on the piano, and dabble at the fiddle. My unrealistic goal is to become a good multi-instrumentalist so that I can play what I hear in my head. The problem is, I'm too old now for that to ever happen, not enough time left! So I guess it's a dream and not a goal. I want to pursue having other recording artists cover our songs, both for the thrill of it and the "mailbox money," which would help my one encompassing goal. That goal is to be able to continue to write, record, and perform. That's how I want to spend the rest of my life.
Lafe: We tell people we play farmers markets for the same reason farmers farm: to get rich and famous. Everybody laughs, and they should. Our goal is to get to the financial level where we can tour farmers markets four months a year, tour house concerts or serious listening venues internationally four months a year, and take four months to record with some relax time in there.
I'd say the goal is to be happy, but we already are. When we first started doing this, my shrink asked me, "Now that you're living your dream, what do you dream about?"
I dream about performing on "Prairie Home Companion" and having Willie Nelson cover my farmer's drought song called "Prayin' for Rain." But as long as I keep having that incredible, euphoric feeling I get when I write a song, then my main goal is simply to write another song. It's like sex: once you've had it you can't stop.
CS: Lilla. She plays no instruments whatsoever. Yet, she's an integral  component of the band. What's up with the dog?
Coco: Lilla is a joy.  She is a rescue beagle who was supposed to be my foster dog when I was a volunteer for BONES (Beagles of New England States). She had been abused and came to me totally terrified of everything and everyone. I finally got her to trust me and when I was told to take her to meet some prospective adopters I told them no, that she couldn't go through that again. She is a "foster failure" although I'd call it a success for all of us. Lafe worked really hard with her and she adores him now, too, although it took a year before she would even come up to him. When we moved to San Diego, Dog Beach, where we go every morning when we're here, worked wonders for her and then going on the road and playing markets she got exposed to lots of people and really became a different dog. She's amazing. People can't believe that she doesn't have to be on a leash and just stays in the performance area with us. She's more famous than we are. Market managers often ask where she is before they even say hello to us! She has her own Facebook page, Lilla Beagle, and is our "spokesdog." Wherever we go, she goes. It's a rare occasion that we'll take a gig if she can't come. Look closely and you'll find her somewhere on all our promo and CDs. Where's Lilla?
Lafe: Lilla is like our child, and in some ways relieves the strain of Coco's and my being together in small spaces 24 hours a day for months at a time. She has needs, we love her, and her well being is of utmost importance to us. Since we tour markets, it's usually 90 degrees plus outside. We have to find dog friendly restaurant patios, dog friendly hotels, we pay a higher price than dog-free travelers, and she needs lots of walks and head pats.
CS: What about your friend George? You trust him as a sort of mentor/sounding board. Most artists don't even think of this egoless aspect when it comes to their creations.
Coco: We are lucky to have several people whom we trust as sounding boards. Paul Miller and Mark Greenberg in Vermont are both great musicians who give us good feedback. Sometimes we use it to change things, sometimes we don't, but it always holds the mirror up to check on how solid you feel about what you have created. And George is the greatest supporter and friend one could ever hope for. He tells you what he thinks when you ask, even if it's not what you want to hear. He is ever the voice of reason yet he is amazing on how he encourages us to keep on going. His input and support are invaluable. Everyone should have a George in their life.
Lafe: Working for record companies I saw artists fail all the time because they wouldn't take input. Of course, others failed because they did take input. The ones who succeeded took input from people they'd known a long time and trusted completely. The hard part is giving up something when you really feel your mentor is wrong, but you have to. And they are going to be wrong some of the time. But the reason you chose them is because they are right more often than you are. They have an objectivity you can't have. It's better that they are wrong some of the time than you being wrong too much of the time.
George founded RadioFolk.org and listens to hundreds of hours of acoustic music every month. He knows acoustic music, songwriting, and great production inside and out. We've been friends for over 35 years. I used to send him other people's music to critique when I was working for record labels. He's a treasure in every way.
He's not our only sounding board: we have 12 people whom we ask for advice when it comes to critiquing songs, mixes, and even artwork. Four are hardcore fans that we met playing music. Four are lifelong friends, and four are industry people. For [our CD] Big Bang, we sent final mixes to all 12 and asked them to choose two songs to cut, for example. And we did it, even though one of the songs I was very, very hot for.
You might be an excellent songwriter, singer, and musician, but that doesn't make you an excellent judge of which songs are the best, and it doesn't make you an excellent producer, marketer, or basket weaver. In fact, I consider myself an excellent songwriter but I wouldn't use that adjective for anything else I do, including singing or any of the two instruments I play. So I have to find experts and trust them.
Not to say that if you strongly disagree you can't veto, but you better not do it very often. As doctors like to say, "You can tell a patient what they need to do, but you can't make horses out of donkeys." Or at least that's what I'd say if I were a doctor.
CS: To whom do you listen in terms of influence?
Coco: Hands down, it's the Everly Brothers for me. That's how I learned to sing harmony when I was a kid by learning both of their parts and singing along. It gave me the love of real close harmony and phrasing where two voices become one voice. I think Lafe and I get that a lot in our singing together and it's always a thrill for me. I'm influenced by whatever I listen to whether it's pointing out what I like or what I don't like. I think Dave Rawlings is an amazing harmony singer and I'm in awe of the notes he comes up with. I love Dinah Washington and I have immense respect for Emmylou Harris. Her voice is really beautiful and she has immaculate taste in songs, although as a former vocal teacher I'd like to work with her on diction. Then there's Don Henley, John Prine, Dylan, George Jones…I could fill pages with the list.
Lafe: If I want to write but don't feel inspired, I can fix that in 30 minutes by listening to John Prine, Randy Newman, or Tom Waits. Currently, Adele or Old Crow Medicine Show sends me scrambling for a pen and paper. Gorecki's "Third Symphony" makes me reach for the scotch, Kleenex, and a guitar. Joni Mitchell, Prince, Dylan: three different writers with totally different styles of writing. Going to a Steve Poltz or Jesse Winchester concert, or just about any live concert, makes me want to quit breathing and just write all the time.
It's not just musicians. Many of my songs come from emotion stirred up by a movie, a book, or even [once] a dog food commercial. True.
There's also a reality of anti-influence: some artists make me want to retire the guitar: we just did a 45-minute pre-show for Red Molly in Fort Collins, and they raved about our writing and performance during their show. But I was convinced I'd never play again because they are so world-class perfect. It was inspiring and incredibly deflating. Listening to Gillian Welch and David Rawlings' new recording, The Harrow and the Harvest, where they wrote all the songs, play all the instruments, and sing all the parts is beautifully devastating. Like Jackson Browne or Mozart, these folks are unfairly talented. They should all be shot.
CS. Your music path is your lifestyle. You don't wait for the "Man" to find you in order to make your dreams come true. You just hit the road and trust it.
Coco: There comes a point in life where you recognize your own mortality, when the clock starts ticking louder. I have been a lot of people in my life and time, to butcher a phrase from a song. I've had a wealth of diverse experiences where I just took a chance and went with what came next and I have also experienced a very safe life on a hill in Vermont. I could have stayed in my gardens and never risked putting myself out there or my security. But the Muse doesn't always just sing to me. Sometimes she kicks me in the butt. She said, "You've never been a wandering troubadour. Just go for it." And so I did.
Lafe: I'm naïve. I've proved it over and over again in my life. I believe in burning the boats — do what you love and don't worry about the money. It's an irresponsible lifestyle. But overall it's worked. I loved working for record companies, I loved raising kids, I loved writing songs through it all. Now that I've only got a decade or two (at best) on this side of the grass all I am going to do is what I love. I simply refuse to do anything else. Currently that means writing songs and performing them. We have bills to pay, expenses to cover. If one way doesn't work we'll find another way. I believe there is always a way, and the people who don't find it simply quit looking. Sometimes when we aren't seeing a way it's because we're stuck in an old perspective.
I know at least three different San Diego musicians who could be touring and making money at it full time, but they're stuck in the old model: they think they need to find some company or somebody to pay them. What they really should do is find a niche and fill it, and they need to build a team, which can come out of their fan base to start. No one ever, not ever, made it without a team. And unless you are top 40 radio, or win the TV sweepstakes, you need to focus on a niche, whether that's a particular type of country music fan, reggae protest songs, or music to walk dogs by. Otherwise, you'll end up with dust on your CDs and working day jobs all your life.
Come to think of it, is it me living an irresponsible life style or is it all the musicians who don't burn their boats?
There is so much more to the Coco and Lafe story. Find out more at www.CocoLafe.com
Chuck Schiele is an award-winning music professional for 25 years as a songwriter, performer, record producer, events producer, music writer and enthusiastic San Diego Music fan.