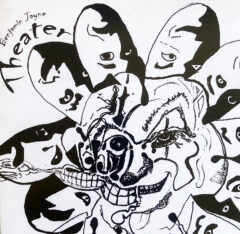 Benjamin Jayne are Benjamin and Amanda Wright, two siblings whose first musical release was Hi-Lo, a 2018 project. He is a New England songwriter and guitarist, she lives in Barcelona where she teaches, makes music singing (solo projects under the name Amanda Jayne), and plays piano. They do musical projects long distance, including their new project, Theater. The new disc consists of ten songs, mostly Benjamin compositions, and the music here was mixed and recorded by Drew Skinner.
The fare on this album slants toward hypnotic, droning psychedelic rock. Benjamin sings in a relaxed, mostly low-pitched vox, and the musical frameworks are mostly acoustic guitar based with effects floating above in the mix. There are sonics that bring to mind middle-period Pink Floyd, softly-rendered songs like "Fearless" and "A Pillow of Winds."
The set starts with "Talking Heads," an unhurried ballad with a breathy vocal about how "They scream but don't make a sound/ They're here but can't be found," it has a bit of protest edge, delivered in a sleepy envelope. "Waiting for Life" follows and has more dynamics to it, double clutching in mid-tune to shift musical gears and refocus. Again, there is a tendency for the guitars to drone, but it is interrupted with rhythmic changes that keep the listener engaged. Amanda wrote "Shake the Vaults," and it has keyboard strings that add another dimension, as drum machines and acoustic guitar lines flesh out a buildup.
The title tune is back to psychedelia, as effects join the guitars and Benjamin is singing "Life is not a show in a theater" as parallels between the real and the imagined are the topics. It is presented with more harmonies on the choruses than can be found on the remainder of the album as well as more instrumental flash in the empty spots than elsewhere. The only cover is "Moonshiner" and it is different in more ways than its origin; like most of the other songs here, it is built upon acoustic fingerpicking, but there are more chord changes and lyrics about things like whiskey-the ethereal vibe from the other songs is there, but it feels like a sidestep to another project.
"Running Around" blends keyboard strings, with more complex drum and guitar figures, and has the most engaging vocal as Benjamin sings his sister's lyrics about personal and family memories. For "Glorious," the breathy vocals are there, and a minute and half in, the first overdriven guitar on the album is heard, creating a drone effect that packs some real energy while contrasting with the softly expressed vocal-and the recurrent lyric "Breathe" doesn't do anything to dispel further comparisons to Pink Floyd. "Lies Divide" is the finale to the set, and it has a folk-song feel, with a nice, expressive vocal by Benjamin who sings, "I didn't realize my lies divide." The song is very well arranged, as the backing fabric of the song is among the strongest on the project. Theater is interesting music that may take a few listens to fully grasp, but is different and well executed.