BEN WANICUR: The Excluded Middle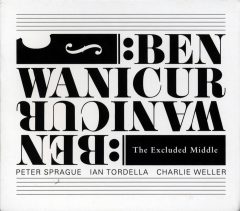 With his premier CD, The Excluded Middle, bassist Ben Wanicur gives us an exciting and engaging collection of jazz originals and covers. Joining Wanicur on this disk are drummer Charlie Weller, saxophonist Ian Tordella, and Peter Sprague on guitar.
With a good, solid sound, Wanicur is an exceptional bassist. As an accompanist, he gives the ensemble and soloist a solid foundation and sparingly incorporates embellishments such as drops and triplet figures. He plays slightly ahead of the beat, something akin to the feel that Ray Brown used, giving the ensemble some drive and verve without straying into the aggressiveness that Scott Lafaro was known for. For his solos I'm given the impression that he's listened to a lot of horn players. Wanicur's phrasing has a sense of breath that you don't always find in players of stringed instruments.
Ian Tordella is one of San Diego's finest young saxophonists. With his versatility the saxophonist evades any effort to place him into a musical box. At once sounding light and lyrical, like Paul Desmond, he can turn around and draw differing and harsher timbres from his horn, like some of the old hard boppers. A number of the tunes are simply configured as trios, with Wanicur, Weller, and Tordella allowing for a great deal of harmonic freedom.
Peter Sprague has been around ever since I can remember. Here he continues to delight with fluid and exciting soloing. In particular, Sprague creates lengthy musical themes and ideas that stretch on measure after measure. Charlie Weller is an outstanding match for Wanicur, playing with excellent time and verve.
Cole Porter offers some of the most outstanding melodies and chord changes in the American Songbook. Here Wanicur includes Porter's exceptionally beautiful "So in Love," from the musical Kiss Me Kate, sending the longing ballad through some abrupt and imaginative time changes. Wanicur also includes two great compositions by Wayne Shorter: "United" and "El Gaucho," and a delightful composition by Ornette Coleman, "Angel Voice." Wanicur, Tordella, and Weller do well to bring out the composition's sweetness and playfulness.
From the ponderous yet unsentimental "Hello Goodbye Hello," in which Brad Steinwehe adds a full, rich flugelhorn, through "Hey Dude," a straight ahead variation of a jazz blues, Wanicur proves himself as a composer. I particularly enjoyed "13 Vans," a take on Juan Tizol's "Caravan" that folds over itself, like a musical möbius strip, on its 13/4 time. (Yes, that's right, 13 beats per measure.) The staccato and angular tune is dizzying, like an Escher art piece. And though the tune is in 13, all the musicians play with ease, as though they perform in this odd meter all the time.
Just a couple more things: the recording, mixing, and mastering of Chris Hobson at Audio Design Studio on this disk is top notch. I listened to The Excluded Middle several times. Each time I listened I enjoyed the music more and more. An enthusiastic two thumbs up for this outstanding musical effort.