A New Era for Twiggs Coffeehouse and Bakery
The Legacy Establishment Carries on with New Owners
The importance of a neighborhood coffeehouse cannot be overstated. It should be a friendly place where you can grab a morning coffee and a made-from-scratch pastry. It should be a cozy place to hang out with a friend on the weekend, chatting about all that life holds as you gaze out big windows at the passers-by. It should be a chill place that allows you to sit for a few hours, reading or writing or working, while enjoying the delicious fare that is available. It should be an artsy place, in best case scenarios, which offers space for performance, whether that's acoustic music, poetry, art shows, or a combination of those. It should be a safe place that allows for community members to meet for various causes. It should be a welcoming place that has good vibes and that feels like home.
San Diego is fortunate to already have a few of these places, but especially lucky to have one that has been a University Heights staple for more than 30 years: Twiggs Coffeehouse and Bakery.
In March 2022, Adrian Arancibia and his wife, Delia, completed the nearly 10-month process of becoming the new owners of the two locations of Twiggs, the original location on Park Blvd. ("…the mothership") and the second location on Adams Avenue ("the 15-year-old extension of the Twiggs Coffeehouse Bakery").
Twiggs History in the Community
According to the Twiggs website, Dan Stringfield and Bernie Horan bought Twiggs in 1997 from the original owners, Michael Roth and his wife, Jill Moon, who opened the café on Park Blvd. in 1992. It wasn't long into Dan and Bernie's ownership that Twiggs, and its performance space, the Green Room, became a meeting place for community and a hot spot for poetry and local music.
Providing a safe place for individuals who are making their way to sobriety, Twiggs has hosted regular meetings for various 12-step programs weekly since the café opened, and they continue to have a home there. "We provide space for recovery," Adrian noted.
Well-known and long-time San Diego poet, Chris Vannoy, ran his monthly Poets Tree readings out of the café. In addition to reading their work, the poets were asked by Chris to bring 50 copies of a poem, and they'd compile instant anthologies on the spot. "There was a great crowd every first Sunday at noon. The coffeehouse itself is a wonderful place to sit and write. I have at least two poems that I know were written there," said Chris.
Robt O'Sullivan, another acclaimed San Diego poet, recalls a reading series for gay poets that was hosted by Jim Wolfe. "I really enjoyed attending his series; he made everyone feel so welcome. I enjoyed it so much, being able to walk to it from our place on Cleveland Ave."
Twiggs also hosted an open mic back in the late '90s and early 2000s that was hosted by the San Diego musical luminary Jeff Berkley. "The open mic was full of amazing artists and the venue was run by an amazing man, the late John Ciccolella. Twiggs was a great, supportive, good sounding, vibey place with great coffee! Berkley Hart played really fun shows there, and Jason Mraz came to work out tunes sometimes." Twiggs was definitely on the map for the music scene as Jeff also recalled, "Cathryn Beeks came there her first night in San Diego!! That's where we met!"
Unfortunately, the music had to come to an end, as the Twiggs website states: "Alas, a live music venue on the ground floor and 18 apartments above it don't mix. We had to end all live music performances in early 2007 in order to keep our lease." Acoustic shows may have minimal PA use, but since the venue is so intimate, it's often not needed.
A Poet's Dream
Adrian Arancibia was born in Chile but emigrated with his family to the United States as a five-year-old in 1976. He grew up in the South Bay, graduated from Bonita Vista High School, and after a couple years at Cal Berkeley, transferred to UC San Diego where he met and was mentored by the inimitable poet, Quincy Troupe.
In 1994, Adrian, along with fellow poets and writers Adolfo Guzman-Lopez, Tomas Riley, and Miguel-Angel Soria, founded the Taco Shop Poets. Adrian explained, "The Taco Shop Poets began because we wanted to take poetry into working class communities. The taco shops were the logical extension of where the working-class communities are, think, and enjoy life. Though we had a collective between 15-30 people at different times, it coalesced around the four of us, and we produced two books and two CDs of poetry and spoken word. We literally read at local taco shops in the region, state, and nation." But they didn't stop there. In 2002, they created an artistic space to house and develop art called Voz Alta in the East Village that held readings and music events until 2013.
Adrian also helped to establish the El Campo Ruse gallery that was in downtown San Diego. "Both gave me an understanding of how to organize and work with young artists to produce quality artwork in the region," he added. And, more recently, he hosted Poets. People. Word. shows in his backyard, bringing together poets, musicians, and arts supporters for evenings of exuberant spoken word and music.
Adrian has lived in University Heights for about 15 years, and Twiggs was his place. He used the Green Room as a rehearsal and performance space. He wrote his dissertation while sitting at the wooden tables outside the front door. Later, after he started his family, his kids grew up eating the tasty pastries from the café. "It was and is very much a part of our family life," he said.
Besides his accomplishments in poetry, being a husband to Delia and father to two children, Adrian is a professor at Miramar College and the Board Vice President for the Sweetwater Union High School District. He's also always had another dream. "It has been a dream of mine for over 25 years to own a café and have culture and art intersect there. Once this opportunity presented itself, it was a no-brainer. My wife and I felt that this would be the best opportunity for success in the business."
Where Dreams and Business Collide
After Adrian and Delia signed the papers to become the owners of Twiggs, he posted the following on Facebook, telling the story of how this dream came to be reality:
Early last year, I was really interested in making a café happen in the South Bay. Delia and I were willing to take the risk involved and start something. And I love cafés. I've written many of the most important things in my life at cafés. And, truth be told, the South Bay didn't have any of these types of establishments where young artists and writers could get together and write. And talk, and exhibit, and perform.
But I had ZERO experience running a café. I had experience running arts spaces, creating culture from the ground up. I had a love for that. But I also knew I needed to better understand the business behind cafés. So, I reached out to Bernie from Twiggs for advice … Bernie, how do I create a mom and pops place where community feels at home? Where musicians can perform? Where writers like me can feel inspired?
And we meet a half dozen times. Each time, Bernie gives me pages of notes. He gives me things to reflect on. He reveals the love that he has for his cafés. And in one of the last meetings, I mention how beautiful that work is. He responds, when we started, we wanted to make this a community hub. And when he finishes, I hear his voice crack. And we accomplished that, he says. And when it came our time to leave, we wanted someone who understood community, who understood what we've given University Heights, to continue it on. We wanted someone like you. He let me know that he and Dan wanted to retire. It was time. But they wanted someone like me to purchase it as a legacy project.
I remember shaking my head on the drive home while I called Delia last summer (2021). And instead of being a naysayer or blocking my ideas, she entertained them. She asked questions. She understood the gravity of this decision. And, finally, she and my girls agreed to take this risk. It's been a long hard road. But as I learned in my purchase of my home, anything that means anything, anything that one really believes in and desires, must be worked on with love and patience.
As the one-year year anniversary of their Twiggs ownership comes, Delia Arancibia offered some further insight. "Adrian and I have had to find a new balance with our home and children. We each take on different roles with both and support each other as much as we can. The kids are really proud of Adrian. Owning a local business and keeping things local is important to us."
Adrian also talked about how important the support of his family was to the decision to move forward. "As we were going through Escrow, my oldest talked about how she used to dream as a kid and think, 'Wouldn't it be cool to own a place like this one day?" This was really moving for me and helped me realize I was making the right decision. I love my kids and my wife. They are the greatest poems in my life."
He also acknowledged the staff and Twiggs general manager, Ruben Sandoval, as being integral to the cafes' success in the last year. "You have to have a strong team, and Ruben Sandoval has been an incredible general manager. Together we prioritize and see what things we need to do and act on."
Upcoming at Twiggs
"My goal is to continue serving the community and producing quality cakes, pastries, and coffee. Beyond that, I hope to make Twiggs a cultural center for San Diego," said Adrian. "We are working with a comedy group that hosts comedy shows every Saturday, and we are looking for other artists and writers that might be interested in hosting their own events once or twice a month." He also plans to refurbish the Green Room to make it easier for local artists to show their work on the walls. Finally, he added, "We are working toward establishing a nonprofit that can help make this vision happen and allowing young artists and writers and musicians to use our space."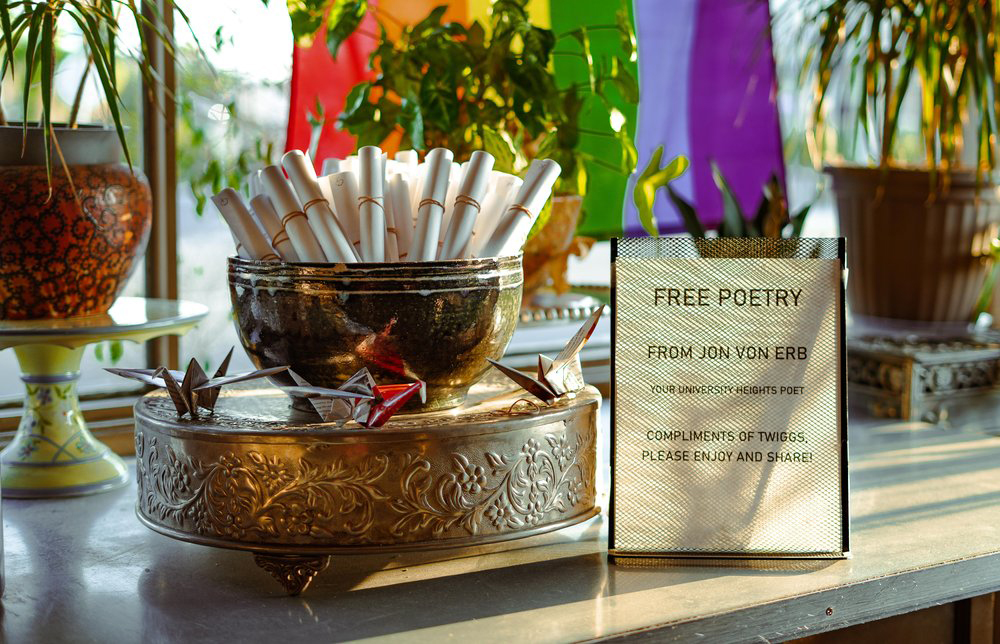 To that end, Twiggs has already hosted a number of poetry readings, including a spoken word show that featured Jimmy Jazz's first public reading from his new poetry collection, Nothing a Fire Can't Fix, and the legendary reg e gaines; an evening with Kevin Powell, reading from his book, Grocery Shopping with My Mother; a publication reading of Summation, an anthology of ekphrastic poetry inspired by art exhibited at the Escondido Arts Partnership; and Adrian's own Poets. People. Word. show that moved from his backyard to the Green Room.
Coming up in April, you can catch poet Joshua Peralta doing an in-person reading and book signing for his poetry collection, 3rd and Orange, on Monday, April 3, 6-8 pm.
With the music limitations at the Green Room, Adrian hopes to host music events at Twiggs on Adams Avenue starting this summer. However, an intimate musical performance will happen on Thursday, April 27 at Twiggs on Park: "Noted" Song Swap. The dazzling Lindsay White conceived the idea for this show and will host the event in which 20-plus local songwriters will come together to resurrect each other's long lost lyrics. All submitted lyrics were anonymously and randomly assigned, and the songs and identities will be revealed at the show. Get more info and reserve your ticket for this limited seating show at https://www.eventbrite.com/e/noted-songwriter-challenge-tickets-534044670987.
Joy Ahead
Adrian and his family invite you to Twiggs, your neighborhood coffeehouse. "Joy is seeing folks experience a reading or event that they will remember and talk about for years. As a performer it's great to see the audience react. Please come out and listen and participate. You are all part of our community."