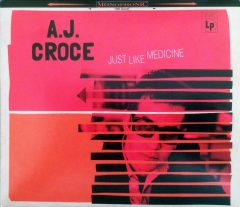 A. J. Croce is a San Diego success story, a man born into roots music royalty who has now been releasing original music for a quarter of a century. His nine albums have featured his bluesy keyboards and broad musical palette, consistent for his uniquely soulful and heartfelt, old-school vocal personality. What Croce does on his newest, Just Like Medicine, is team with people, places, and even equipment from the nation's blues heartland that were directly connected to the soul sounds that many listeners grew up with. The Nashville-recorded 10 tracks were produced by Dan Penn, who co-wrote "Cry Like a Baby, "I'm Your Puppet," and "The Letter." The stellar side men include the Muscle Shoals horns and Rock 'n' Roll Hall of Famer Steve Cropper on guitar, who co-wrote "In the Midnight Hour," "Soul Man," and "Sittin' On a Dock of the Bay," and played on all the big Stax hits by Otis Redding and Sam and Dave.
Having this kind of studio firepower gives the music Croce writes another layer of class and timbre. On the disc opener, "Gotta Get Outta My Head," he is all business and growling in a wicked groove, building into a powerful chorus with soaring female backing singers (the McCrary Sisters) that recalls the late Leon Russell. The next track, "The Heart That Makes Me Whole," Russell co-wrote with Croce; his vocal doubles down on the similarity of their voices. It is framed with a superb arrangement that punches all of the Stax buttons–crisp rhythm section, the Shoals horns melting into the hooks–and has Cropper on guitar. Penn's mono recording using analog tape, just adds to the guilty pleasure.
"The Name of the Game" is an unrecorded original by his dad, Jim, and it has echoes of his style in every syllable–decades may pass, but some songwriters just carved out a sound that will live on. The title track is given a Nola-style blues with just enough gospel singers and great horns to make it feel like it would work outside in a march. On an album with no weak tracks, Croce changes the mood expertly as he moves into the ballad "Move On," which recalls the slower soul that used to be all over the charts in the late '60s, "When the bite of the bitter/ Is stronger than sweetness/ Move on." Another ballad that clicks, "I Couldn't Stop" takes a quirky approach, a stripped-down arrangement includes an accordion hook, as Croce confesses his inability to walk away from an addictive romantic relationship.
The hardest rocking song here is "The Roads," which closes the set as Croce turns inward, with swirling organ and drums lay down a solid pulse. He has seen the many paths that he is still faced with, "I'm not afraid of getting lost/ Or paying my dues/ It's worth the cost/ If in the end I learn to find my way."
A. J. Croce's many fans will enjoy Just Like Medicine, and so will any listeners who like keyboard-based blues music with soul.
A.J. Croce will be performing at the Belly Up Tavern on January 3. Lisa Sanders opens.