GAYLE SKIDMORE: Coloring her World with Art and Music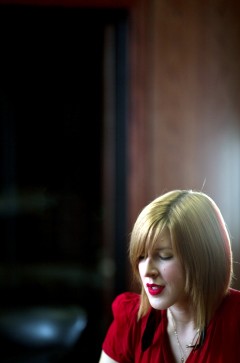 There are many ways to describe music, but even with a wide palette of descriptions, that wouldn't do Gayle Skidmore's songs justice.
She is indeed a brilliant artist, a gifted tunesmith, a virtuoso musician, and more. Many consider her a singer-songwriter. True, she often performs solo, with a guitar, banjo, or keyboard, but that only touches on one aspect of her songs. To some she's a pop/rock genius with touches of Elton, Brian Wilson, and Lennon/McCartney in her melodies. She also strays into torch song areas and she's not afraid to include dance elements, modern synths, or whatever it takes to create a strong piece of music. Each recording builds on the one before. Each sounds different than the one before.
Heading into this article one of the editorial requests was to make sure and describe Skidmore's music. In decades of my covering artists, it's rarely been this difficult. What we have here is a kaleidoscope of sound, at times whimsical, at times deep, but always multi-layered, full of intricate arrangements, and loaded with imagination. Indeed, she crafts songs not just worthy of hitting radio but also of repeated listens.
Skidmore has had definite successes in recent years, including great song placements, awards, tours and more, but even with all that in her resume, it feels like her career is just beginning to skyrocket.
EARLY DAYS
Gayle Skidmore is that rare item, a native San Diegan. Born and raised in Spring Valley, she now calls North Park home. Walking around Balboa Park, doing a bit of people watching amongst an interview, it's easy to discern just how passionate Skidmore is about her music. She is indeed a lifer, a full-time musician. She is focused. Through thick and thin, music is clearly what drives her, sometimes at the expense of things around her. But she has a vision, and it's been with her since she was a small child, when she began composing the first of what now numbers over 2,000 original songs. "Music was a huge part of my childhood," Skidmore said. "My sisters and I all had piano lessons as children, and both of my parents are musicians, though not professionally. The three of us would sing and play the piano together regularly, and we enjoyed putting on plays and singing for our relatives. I have a few embarrassing home videos of those performances that I hope never surface. I'm grateful that my parents chose to give all of us piano lessons and that they encouraged our artistic pursuits alongside academics."
Skidmore and her sisters all played the flute in the middle school band as well as played the piano for their church, but she didn't take her original music to the public until she began performing in local coffeehouses when she was 14 years old. "I had been writing songs since I was eight and playing the piano since I was four, so it was a natural progression for me," she recalled. "When I finally started sharing my songs with my friends and family, they encouraged me to try to book a show." It was the acquisition of a copy Lisa Loeb's Tails album that inspired her to follow her family and friends' advice. "Lisa Loeb's music opened me up to the whole singer-songwriter world, and I really connected to the female artists that I discovered during that time. Opening for her at the Casbah last year was a dream come true," Skidmore said.
That first show only went "okay," but it was enough to make up Skidmore's mind about music. "I brought a notebook full of songs and didn't really look up at anyone or talk between songs. People were polite and my friends were supportive. It wasn't my favorite experience, but I knew I'd grow to love it. I always wanted to be a musician, and it's been my way of life for my whole life." She was already a veteran of the local club circuit when she officially decided to make music her career. The decision took place while studying abroad in Oxford, England, while she was in grad school studying education. "I realized I was more passionate about pursuing music as a career than teaching," she said. "It became impossible for me to fully pursue both at the same time, so I made the decision to quit school for rock 'n' roll."
MULTI-INSTRUMENTALIST
While her first instrument was the piano, it wasn't long before she was best described as a multi-instrumentalist." I took classical piano lessons for many years and started college as a piano performance major. I still consider the piano my main instrument, though I started out writing most of my songs on a 12-string acoustic guitar." Besides those two instruments, Skidmore also plays the electric guitar, banjo, ukulele, balalaika, melodica, harmonium, mountain dulcimer, flute, folk harp, glockenspiel, marimba, kalimba, vibraphone, organ, electric bass, stand-up bass, tambourine, mandolin, ocarina, accordion, trumpet, and percussion. "I love experimenting with different styles and sounds. My newest instrument is the banjolele that I received from Deering Banjos and I have been having a lot of fun writing on it. I hope to have a few banjolele songs on my next album."
Since much of her early music was composed on guitar it stands to reason that she would have a favorite instrument. "For many years I played a little acoustic Martin guitar that was given to me by Tyrone Wells, but after borrowing Gregory Page's Harmony Meteor, I knew I needed a hollow-bodied electric. Whenever I had some extra time on the road, I would check out guitar shops to try to find The One, but I ended up finding my Gretsch at Guitar Center in La Mesa. It was mildly disappointing not to have a great story about finding the guitar, but I absolutely love it," she laughed.
In addition to Loeb, Skidmore cites Lhasa De Sela, My Brightest Diamond, Jeff Buckley, Led Zeppelin, Radiohead, Clare and the Reasons, Andrew Bird, Fiona Apple, and Sufjan Stevens. "I have so much respect for artists like these who are continually stretching themselves and reaching for new modes of expression," she remarked.
MUSIC AND TOUR TALES
A prolific tunesmith, Skidmore has set up her own label, Raincoat Records, with a discography that consists of a series of EPs: Gayle (2002), So Deep (2005), Paper Box (2007), Cowley Road (2008), and a live collection (2004). Two albums complete her discography: Make Believe (2010) and Sleeping Bear (2013). A 7-inch single, "Zombie Heart," was also released by Eugene, Oregon's Ninkasi Brewing. If ever there was an artist that should be on vinyl, it's Skidmore, and with that great artwork, a picture disc would be perfect, but to date "Zombie Heart" is it.
Her music began to make waves almost immediately as it continues to today; "China" won the True American Records songwriting contest in 2003, while "Whiskey & Cigarettes" won the 2013 Staring at the Sun song contest with DJ Tim Pyles on FM94.9, headlining legendary San Diego nightspot, the Casbah soon after.
As might be expected in someone whose music is so meticulously crafted, Skidmore is a perfectionist. "Definitely," she said. "I don't always have the means to make things exactly how I'd like them to be, so I've learned not to be a control freak about it, which often goes hand in hand with perfectionism. But I do prefer to have things just so."
Skidmore is a veteran of both national and international tours. "Some years are busier than others," she said of her road work. "If I'm doing a lot of recording I tend not to go out on the road as much." She considers Texas, New York, and Oregon to be have the best audiences.
Of course, concerts are one of the places that, on occasion, an artist has to cede control, affected by everything from a sound man's temperament to the elements. And then there's the audience to contend with. "The strangest thing that ever happened on stage was when I was performing at Freud's in Oxford," she recalled. "A drunk old man snuck onto the stage and leaned over my shoulder mid-song. He scared me half to death." Outdoor shows have their unique perils. "They can be a challenge when the weather is extreme, but most of the time I don't mind it at all," Skidmore said. "I've played some shows on tour out of doors that were really difficult because of the cold, which makes your fingers clumsy and painful to press on your strings. I also played a show in extreme heat and humidity, and it was very exhausting and tough to keep the energy up." Sun can be an issue, but at times wind can lead to wardrobe malfunctions. "I had a very windy show in Laguna Beach," she recalled. "I had worn a dress and endeavored to tape my dress to my legs to avoid embarrassment, but the tape wouldn't stick to me. Thankfully the wind died down half way through my set so I was able to stop worrying about it."
COLLABORATIONS
Skidmore considers her music to be an expression of her life. "It's my memories, ideas, emotions and dreams, moods and opinions, reactions and reflections," she said. "But I don't consider myself really a solo artist, even though I just use my name for the band," she said. "Daniel Crawford has been playing lead guitar for me for six or seven years, and Marta Blalock and Erdis Maxhelaku have played violin and cello in my band for many years as well. My bass players and drummers have been less consistent, but I do have several that have been around for a long time. I like to have artistic control over my own music, which is why I've done things this way."
Though most of her performances are billed under her own name, ever artistically restless, in 2014 she co-founded the duo Greyhawk with Brandon O'Connell, striking instant success when their cover of Kinks' classic "Lola" was used in an ad for Safe Auto Insurance. She also recently played lead guitar for the Slants, a dance rock band from Portland. This year will include an electro-swing project set to debut later this year. A split cassette with Sonoma, California-based group is also due this spring. "We'll be touring together across the US during March and April. I plan on starting a new full-length album, and have been writing more than ever," she said.
The insurance ad is just one of the many Skidmore recordings  you may have heard and not realized it was her, via advertising. She has worked on ads for Target, Facebook, and many more, "I've worked on a lot of different ads over the past few years with Singing Serpent," she said. Singing Serpent is one of the world's top music and sound design studios, based in Kensington. "I started doing vocal work several years ago when [studio co-owner] Rafter [Roberts] called me up for a job, but I didn't start working there frequently until I recorded Sleeping Bear in that studio. Being there almost every day made it easy to jump in on jobs, and I discovered that I really enjoy composing commercial music. It's totally different from how I write my own music and I've grown to love the challenge."
As much as she enjoys creating her own work, she clearly loves to work with others for different ideas and perspectives. She cites her favorite collaboration as always being "her most recent one," currently the song "Beautiful Soul," which she worked on with Sean Watkins of Nickel Creek. "Sean and I met through my friend Grant Lee Phillips of Grant Lee Buffalo a few years ago, and I'm thrilled to have been able to collaborate with him. Hopefully we'll get a chance to write together this year, though we're both super busy."
She also has kind words to say about her teaming up with Ninkasi Brewing, who funded the "Zombie Heart" single and more. "Meeting them has been one of the best and coolest things that has happened to me," Skidmore said. "We got together at SXSW in 2012 through my friends Fierce Creatures, and it has been an unbelievable partnership. They've supported me in so many ways and have become my favorite people to work with."
ART
We're near the Timken Museum of Art, which prompts the next line of discussion. One of the things that sets Skidmore apart from other performers is her wonderfully whimsical artwork, which adorns her releases and merchandise. It's an utterly charming stylized world in which a young maiden can have tea with an octopus and sea horses abound. "Octopuses are very emotional," she explains of that particular theme. Her eye-catching work is very distinctive and perfectly paired with her music via coloring books that accompany her albums. She considers the packaging and artwork for a CD to be an integral part of the whole.
"Presentation is very important to me because my music means the world to me. I want to put it out there in a way that is true to my artistic vision," Skidmore said.
The coloring book idea originated from her habit of painting while listening to an album, in this case the soundtrack was an album by the group Clare and the Reasons called The Movie. "I was brainstorming about a way to showcase my lyrics that would encourage people to be creative and to have a more personal connection to my songs, and thought of doing a coloring book."
Her artwork has helped build a strong connection with her fans.
"I don't really consider myself much of an artist, but I did take private lessons when I was younger," she said. "Oils used to be my preferred medium, but in recent years I have really enjoyed just sketching."
She's recently been commissioned to do pieces for several of her fans, including her own take on Dogs Playing Dungeons and Dragons, for an admirer in Texas. Another fan is having her design become a tattoo.
"This year I would like to do a show for my art and get more of it posted on my website," she said. Skidmore notes her artwork can be taken at many levels. "The theme usually finds me. There is varying depth to each picture in my coloring books. Some are just whimsical or playful, but others, like the illustration for Field of Marigolds are steeped in meaning."
Response to the books have been positive, with people using them for their intended purpose. "People like having something interactive that showcases the lyrics and that they can really personalize. I love getting copies of colored pages from fans! Some of them are really creative, but all of them are fantastic to me. I post them on my website and love seeing how excited people get about it. It's very healthy to express yourself through visual art and is often used in therapy. I think that this side of us gets neglected so I love seeing adults get really excited about coloring." Collectors will want to grab these while they can. Though it would certainly be welcomed by her fans, Skidmore isn't sure she'll continue the coloring book album crossover tradition. "I definitely plan to continue doing art for my music, but I'm not sure what form it will take in the future," she said.
THE STORY TO DATE
In early 2013, after being nominated four times, Skidmore won a San Diego Music Award for Best Singer-Songwriter. "I've worked extremely hard to get where I am in music and to be successful as a totally independent artist, [so] it was a wonderful moment to feel acknowledged for that," she said. 2014 saw her follow up with a second win, this time for her album Sleeping Bear. While both trophies take their place of honor on her living room piano, she considers the 2014 trophy to be special. "It meant much more to me, as that album was an important healing journey for me. I poured all of my anguish, frustration, and hope into that record, which I wrote about losing my ex to a psychotic break, and it's hard to express how meaningful it was for me to win that particular award."
Lyrics and music most frequently come to her at the same time, though there are no rules. "I write music pretty much constantly, so it doesn't always happen in the same way, and sometimes I'm much more inspired than others. I try not to let that stop me from creating, but I have hyperactive muses so I don't really have to worry about that," she said.
"For me, lyrics are incredibly important," she said. "There are so many different styles of lyricism, and people can make all kinds of arguments for what is better, so I think it's mostly subjective. I tend to gravitate toward music that is more thoughtful and poetic with words that are full of imagery. I enjoy getting lost in a song. I want to be taken somewhere within the words and music, and that is my goal with my own lyrics as well. I do occasionally write from different perspectives and compose things for people in my life, but my songs are on the whole incredibly personal."
Skidmore's star is rising and it couldn't happen to a nicer person. Music is in her DNA and she couldn't be more driven. "I've wanted to be successful in my music career for as long as I can remember, and I still have a long way to go," she remarked. "There are so many things I want to do —Â  tour Japan and Finland, get my music on NPR, record with an orchestra, and so on. I need to keep fighting for the things I want and working hard so that I can accomplish my goals." If the last few months are any indication, she's well on her way. Her song "Paper Box" was recently featured on HBO's new show, Looking, and look for her music to be included on several upcoming compilations, as well as yet more touring.
Having a life fully immersed in music is hard work, but it does have its benefits, beyond the usual airplay, attendance, and sales criteria. "I love the freedom that being a musician affords," Skidmore commented. "I've never been a morning person and I love being able to create my own schedule." There's also the travel. "I grew up taking road trips with my family across the country," she smiles. "And it prepared me for life on the road. I enjoy getting to know each city, visiting friends and fans every few months," Skidmore said. "And gleaning inspiration from new places and experiences."
See Gayle Skidmore before she goes on tour at the Casbah, 2501 Kettner Blvd., on March 1, 8pm. She will be joined by Minor Birds and the Liquorsmiths. For more information, check out her website: http://gayleskidmore.com