Garrison Bailey: Drummer, Vocalist, and Renaissance Woman
EARLY MUSICAL BEGINNINGS

An East San Diego County girl and El Cajon Valley High graduate, Garrison Bailey cut her musical teeth in her high school marching band playing alto saxophone. "I loved it and I still walk in that marching band way," she quipped. Between El Cajon and Santee she moved among 13 different schools along the way. Early on, at five years old, she began her love for singing. "My mom loved Linda Ronstadt and so I would come home from school, close a curtain and sing along with Ronstadt's Heart Like a Wheel album." she reminisced. At that early age Bailey knew three things about herself as she stated succinctly: "I knew I was gay, I knew I wanted to be a musician and I knew I was going to change my name." At age 16 Bailey started attending a church in El Cajon where she discovered that the church had a drum set there. "The drummer, a guy there, wouldn't let me play drums, so I wound up taking wooden spoons to practice on counter tops."
ARIZONA, OPEN MICS, AND KARAOKE

In 1998, at age 28, Bailey wanted to be done with the church affiliation as she recalled: "I wanted to seriously pursue music and have a fresh start, so I contacted an uncle that lived in Arizona whom I stayed with for about a year. At that time, I met a musical couple in Sedona—Laurie Burke and Tony Carito—who were performing and needed a drummer," she said. "Following that I was in a fun pop band there, a quartet called The Girlz. That band turned into Rachel and the Rock-Its; we were together about a year," she recalled. "That was also the time I really began to hone my singing and drumming chops as I would attend open mics and karaoke nights. At the open mics there was a guy there named Grateful Fred, who was the main drummer," she continued. "He took me under his wing and said just get up there on the drums and figure it out as he would give me directions on what to do…whoever would come up to perform I had to figure out what to play behind them, it was a priceless learning experience for me."
Her karaoke experience opened the floodgates to gaining her confidence as a singer and realizing she had a powerful and appealing voice. "At first, I couldn't even stand on the stage; I would hide behind a pillar with my hand in my pocket. Eventually, as I got to know many of the people there, I became more comfortable with my singing," she said. "One night I sang a difficult Martina McBride song, and I killed it, especially hitting a high note I thought I couldn't reach."
That eventually prepared her for a gig with Sammy Davis, the "Sedona Entertainer" frontman as he's known in those parts.(not to be confused with the more notable Sammy Davis). "The first night I played with him he asked me if I had ever played with a click track (a metronome produced by a computer to set a predetermined tempo). I got through it okay and wound up playing with him for a little over a year," she recalled. "It was great fun, a steady gig every Friday and Saturday nights playing lots of R&B and rock tunes. I loved it, we had a great time."
THE GROOVE KITTIES AND BEYOND
From there Bailey put her own band together in Sedona, the Groove Kitties, a trio where Bailey sang lead and played drums performing a variety of music including pop, funk, rock, and country. After a return to San Diego to tend to her mother who was undergoing a liver transplant, she wound up staying in town and becoming a member of the group, Haute Flash. "It was me on drums and vocals, Shaaron Schumaker on bass guitar/vocals, Lori Corey on lead guitar/vocals, and Nancy Soule on keyboards and vocals. It was a fun band, we all played and sang, playing mostly a mixture of pop and rock tunes." Soule reflected back on those days with Haute Flash fondly. "We rocked. Garrison was fearless about putting herself out there as she was an unbridled hurricane of talent and enthusiasm!
She has a huge heart and is passionate about music."
In 2010 Bailey crossed paths with local music icons, Marcia Claire and Cathryn Beeks, seeking to form a group. Serendipitously Bailey still had a banner with the moniker Groove Kitties, so it was an easy band name choice as she recounted: "we were trying to think of a name when I said I still had a Groove Kitties banner, so the San Diego version of the band was born." Beeks recalls her musical times and friendship with Bailey. "I had the pleasure of sharing the stage with Ms. Bailey for years in our band Groove Kitties. She is a ball of positive energy and talent! I am so proud and inspired by her; she is an unstoppable force, and her music makes me dance!"
FIFTEEN MINUTES OF FAME
In 2013 Bailey got an unexpected email about auditioning for the Kandi Factory, an American reality competition series, hosted by Kandi Burruss from the Atlanta girl group Xscape. "Their production company was in L.A., and they wanted me to bring one of my pink swirl drums to the audition. I sang a Pink song while holding my drum," she said. "It was all women that were auditioning me; they were all supportive and sweet. Two weeks later I got a call that said I had been chosen to be on the television show, shown nationally on Bravo. The premise of the show was a 16-person competition, two people each week. They flew me to Atlanta, and I competed against an R&B singer Kevin Dancy. Burruss wrote all the songs for each competitor, and we had to learn a dance in addition to myself doing two drum solos. Kevin won the competition, which was fine with me, although I made a lot of lifelong friends through that experience."
PENNSYLVANIA AND RADIO WORK
After a year's correspondence with a woman from Pennsylvania who saw her on the Kandi Factory show, Bailey made the move to Altoona, Pennsylvania, to pursue the relationship. She found employment there at a local radio station and wound up getting her own radio show called Real Talk Radio. "There was me, the Gay liberal; Theresa, the straight liberal; and Haley, the middle of the road straight lady," she explained. "We all became good friends and had a great time doing the show.
However, being in a conservative area," she continued, "I would get blow back from station management occasionally, such as 'stop being so gay on the show,' which I never knew specifically what that meant. All in all, though, I loved working at a radio station." After spending five years in Altoona, she was ready to come back home to San Diego. "In hindsight I never should've gone to Pennsylvania," she stated. "Things personally didn't work out although I made some of my best friends there. I loved the little house I had, I loved the theater there, and I got to see the East Coast, but I wish I had gone for a different reason…love can sometimes be stupid and in this case it didn't work."
BEING GAY AND INJUSTICE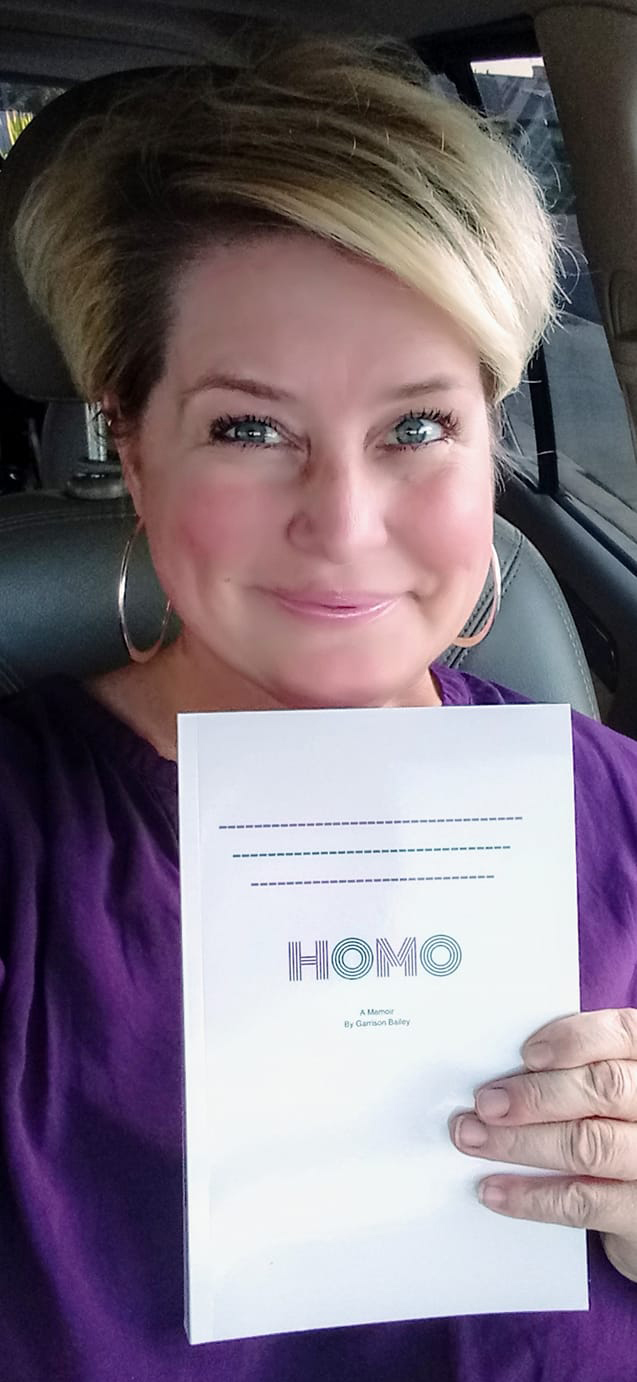 During her time in Pennsylvania Bailey decided to write an autobiography which culminated in her book HOMO, a memoir of coming out of the closet and how music helped her do that. "It was an accomplishment for me. I self-published it on Amazon with my goal of hoping to receive 20 five-star reviews, which came to fruition," she exuded. "Being gay is such a tiny part of my life, that's just who I am. It doesn't mean that I hate men, I don't. I want male friends because they bring such wonderful energy," she stated. "I've never been ashamed to be gay. I didn't come out as gay until I was 36. I had an uncle who cut me out of his life because of that fact," she concluded. Currently Bailey remains active to the social injustices that permeate the lives of the gay community. "I will fight the injustices although I'm not one to outwardly protest, but I vote, donate money for causes, and I have a loud voice on social media. I encourage people to have bravery and fight for their rights."
CD PROJECTS AND FUTURE PLANS
In 2013 Bailey released her debut CD, Delicious, which included her song titled "It Gets Better," a statement to the gay community that life will get better, followed up by her one woman R&B CD, Secret Superwoman in 2022, employing GarageBand, the classic digital audio workstation that enables users to create multiple tracks with premade MIDI keyboards, loops, and various instrumental effects. The result was ten original tracks with Bailey utilizing her drumming prowess paired with funky ostinato bass figures to create wicked syncopated rhythmic grooves throughout the album, highlighted by her super soulful voice. "I needed an outlet from my intense day job at UCSD Medical Center as a decedent affairs coordinator… and I needed to do this for me. Messing with all the digital options in creating this CD became the most fulfilling thing I've ever done," she beamed. Inspired by singer Linda Ronstadt's multi genre approach to albums, Bailey is now setting sail to record a country CD. "I don't have a name for it yet, but I've got five songs done."
Bailey's most recent band, the Resizters, was formed last year to play at a one-time event, however it turned out to be more as Bailey described. "We rehearsed nine songs to be performed at an SDG&E protest. It turned out so well that we started getting offers to play at other events in the future. It's a fun band with great people and it's been keeping my drum chops fresh."
A few of the band's members have nothing but high praise for Bailey as bassist Laura Payne put it: "I've started working with Garrison in the past few months. She is the consummate professional. Not only does she work hard to get the drum parts down in record time, but she also brings fun and levity to the band with her wit and humor. I am very honored to be working with her. She's an excellent musician and rhythm partner." And vocalist Lisa Domkat added: "Garrison Bailey is the quintessential definition of a Renaissance woman. She's tremendously compassionate working two stressful jobs counseling families after they lose their loved ones but yet still finds time for playing and producing music on her own and with her friends. On top of all that she's teaching herself to play lead guitar so she can fill the gap of too few female guitarists in the area. She has a heart as big as Alaska and maintains an outstanding sense of humor even in the most intense situations."
EPILOGUE
Bailey is truly a Renaissance woman, who in her own words has lived a diverse life filled with a joyous spirit of a glass half full of hope and optimism. "Life is good, I'm thankful. I love people but I enjoy my solitude. I come home, I greet my two chihuahuas, I turn on my computer, and I start writing…I am so happy alone, so everybody hear me loud and clear: My life is lovely!"