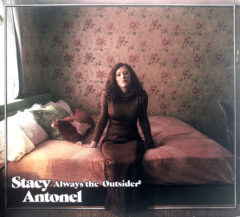 Always the Outsider is the latest release from singer/songwriter Stacy Antonel, a native San Diegan who splits her time between here and Nashville, where she moved in 2017. Beautifully recorded and mixed by Ben Moore, it's a showcase for Antonel's vocal versatility throughout 12 tracks of original tunes backed aptly on most tracks by veteran session players Jason Littlefield (on bass), Matt Lynott (on drums), Paul Sgroi (on electric and acoustic guitars), Doug Pettibone (on pedal steel and acoustic guitar), and Steve Peavey (on banjo, baritone guitar, mandolin, and acoustic guitar).
Reminiscent of k.d. lang's 1992 Ingenue album that used pedal steel guitar as the main backdrop to lang's eclectic repertoire, Antonel uses the same clever and creative approach amid Pettibone's lush chordal accompaniment in highlighting her dynamic and pleasantly in-tune vocal range and nicely layered mellifluous vocal harmony parts.
Her country tunes are an easy fit for radio-friendly stations with her powerhouse voice and just enough twang evidenced in the opening title track as well as in the two stepping "You Can't Trust Fate," along with echoes of Patsy Cline in the "cry in your beer" tune, "Texas Lasts Forever." The country boogie tune "Heartbroken Tomorrow" is one of many highlights of the album with Antonel's soulful voice in tandem with Sgroi's blistering guitar phrases, harkening back to the musical call and responses of Roseanne Cash and Albert Lee.
However, Always the Outsider takes a few 180 degree turns away from the obligatory three-chord country music formula with lyrical musings heavily focused on personal relationships as in "Kicking and Screaming," a haunting minor key track. "Don't call me a bitch… you got in too deep." Also, "Karmic Cord," a nicely crafted musical cabaret styled track. "The karmic cord between us is finally cut…it wasn't easy but we're through."
More compositional and vocal diversity shines on the dreamy ballad "Planetary Heartache" interwoven with tastefully played guitar phrases reminiscent of songstress Maria Muldaur and guitarist Amos Garrett in addition to "I Talk When I'm Nervous," a tender 6/8 time waltz. "All I want to be is beneath you tonight," followed by "Not Looking for Love," a pop-flavored track with a strong message: "the heart like Magellan…and a pussy in rebellion…I'm tempted by the offer." The tune "Absent Captain" is set against an effective melodic drone outlining Antonel's lyrics. "There's no captain on my ship… there's no captain, I'm adrift."
The last two tracks bring in Nashville studio heavy hitters, Eddie Lange on pedal steel, Joe Reed on bass, and Toby Caldwell on drums into the band mix for the jazzy "Save Your Breath" and the funky groove rocker "Better Late Than Never," a spot-on diatribe of the bar scene crowd and music management pariahs. "It took me a while to wake up…but better late than never…I hate the game… but now I'm playing."
Combined with the superlative musicianship, eclectic compositions, and Antonel's golden pipes, Always the Outsider is a masterpiece on all musical levels, so take heed Grammy committee, Stacy Antonel has woken up and is ready to play!
Don't miss Stacy's CD release along with Sara Petite and Nick Crook, June 25 at the Soda Bar, 3615 El Cajon Blvd., 7pm.