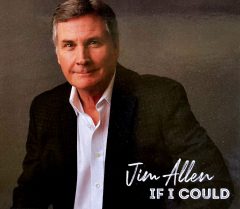 San Diego's Jim Allen's last release, Ten Songs, was a pleasing collection of covers of country standards that showcased his deep, resonating voice, with a quality that matches the way classic male country stars like Johnny Cash and George Jones could take over a song. His new one is If I Could, and this time the ten songs include seven of his originals.
The set is played by Allen on lead and backing vocals, guitars, bass, drums, harmonica, and fiddle, with David Berzansky on pedal steel, Alex Watts on acoustic guitar, Rachel Allen Thibodo on trumpet, and Sam Boukas on piano. Boukas did a nice recording/mixing job at La Mesa's XYZ studio. The payoff here is that the originals fit Allen's folk-country delivery perfectly as he sings tunes click again and again.
"Fish in a Tree" gets things rolling, a mid-tempo post-breakup ballad that finds Allen deserted by a lover. "There's a lot of things I could do/ Oh, like sit around the house and think of you." The mood is laid back, and acoustic guitar fleshes out the sound, with harp and electric six string playing fills. Another original is "Drifting Through My Mind," more of a shuffle, as pedal steel is added to another song with a traditional country theme as the lonely singer singing about how much he misses his absent mate.
"Burger King Crown" has a 3/4 beat, features trumpet flourishes, and has interesting lyrics about a homeless man, who walks through the poorer section of town collecting life's discards, but retaining a strange dignity. Michael Martin Murphey's "Cherokee Fiddle" is another good story song about a quirky character. It's about a fiddler who used to play for whiskey money in the train yards and stations. "Now, the Indians they're dressing like cowboys/ And the Cowboys are putting turquoise on/ And the music is sold by lawyers," and the station fiddlers are gone.
On "Down River Way" Allen is longing for a woman after a breakup; he wants her back after he goes down to the river to wash his blues away. The instrumental blend of mildly distorted guitar lines and wailing pedal steel help this one out. The title song won a songwriting award, a quietly rendered love song with Allen pouring out his heart and describes wanting to write or paint about his lover, but he can't do those things, so he wrote the touching song instead.
The themes in the standard "Long Black Veil," about a condemned man whose lover visits his grave at night, clicks with just enough hint of "El Paso," along with nice, rich chorus harmonies. The program closes out with Allen's "Silver Moon," a slowly paced folk song decorated by lovely acoustic guitar statements about how he is content and grateful for the love he receives from his partner. Wonderfully expressive lyrics describe how he wants to be at his lover's side as long as the moon is there in the sky.
Jim Allen's voice and writing make If I Could a good country music listen.