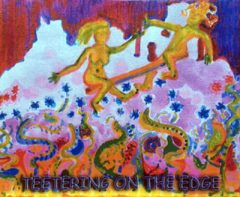 Haywire is a popular band name, and the Julian band is one of several in multiple genres on the web sharing the name, from cover bands to bluegrass. They are neither and on their third album since 2017, they fit most comfortably in the folk-pop category. Their last release was 2019's Awake in the Dream, an imaginative effort that switched the late-'60s, San Francisco-vibe of guitar-driven songs on their debut in favor of a more folk-rock, stripped-down sound. Their new one, Teetering on the Edge, a perfect title for a 2020 project, continues this softer direction—but one with folk-rock echoes that recall the slower, more harmony-driven tracks by Bay Area counter-culture bands.
The new disc is a 13-track program, available digitally on Bandcamp, that adds four bonus tracks, all originals. The personnel remain songwriter, guitarist, lead singers Jim Lydick and Kathleen Beck; Maril Parker on bass, fiddle, and backing vocals; Liz on flute; and Paul Gordon on drums. Their strong suit is the organic two- and three-part harmonies on tune after tune. They don't make an effort to rock hard, and the mostly short songs are full of surprising moments.
"Sorrow" is a good example of the group playing to their strengths. Lydick sings the catchy melody, but the smooth three-part blend on the choruses take this track to a higher place. This song opens a two-song suite with "Into the Black," following in the same key with nearly the same hook, but slightly more brisk. Here, Beck is in command on the vocal and the track recalls Grace Slick's early Airplane sound.
Flute makes its first appearance on the otherwise stripped-down "Staring" and reveals it to be the band's secret weapon in terms of eclectic feel, again appearing on "Old Hippies" (along with accordion), a mid-tempo track that has a mellow feeling just like that appreciated by its namesakes. "Gyar" has the kind of harmonies that work so well on the early albums by It's a Beautiful Day, as again the riffs are soft without instrumental flash.
The highlight of the program is "Hence," by far the longest tune, sung by Beck with very melodious "Oooh" backing vocals that soar beautifully. A bluesy departure, "Monkeymind" catches the ear with a dressed-up 12-bar structure, given a boost by a wonderful slide guitar break by Lydick straight out of the Robbie Krieger toolbox. This is a harmony band, and they are wall to wall on "Travel," another strong track with Beck at the mic.
This project includes four tracks written during the Covid quarantine, led off by "Waterfall." It has a slow and mysterious hook, with Beck somewhat buried in echo and string buzz, but it still clicks. Another bonus track, "Do It Now," bears signs of Nature's revolt seen in our crumbling environment and health crisis of this year, and it makes its point for the listener: do more than just talk about it.
Teetering on the Edge is a generous set from Haywire that folk rock audiences are sure to enjoy.