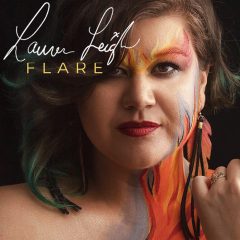 Flare is the debut EP by Lauren Leigh Martin. This online download project features five original songs that feature Martin's considerable pipes, performing pop ballads backed by her backing crew, the Low Keys, which includes Sam Hunt (guitars), Joshua Taylor (guitars), Josh Weinstein (keyboards), Haley Magsino (bass), and Tony Econom (drums, percussion); all contribute group vocals and are joined by Sandi King (backing vocals). It's nicely recorded by Fernando Perdomo.
Martin's bio tabs her as a songwriter, bandleader, and "hired gun." Makes sense, since she has sung with a number of other local performers, including country with Wild Heart; pop with Analog Society, High Tide Society, and tribute bands (Pink Froyd, Mud Slide Slim); as well as in an acoustic duo with Hunt.
Martin has some experience with country, and there are hints of the form in many of her songs; here the arrangements are generally lush and layered pop. On the opener, "Burned by Bridges," things start as a mid-tempo country-influenced track, referencing a bad boy rocker boyfriend: "I was just a little girl when I learned a guitar could break a heart." Then, after a couple of minutes, the track takes a sonic detour with a well-executed bridge featuring big backup vocal harmonies. It is catchy and she flashes some vocal power. "Sweet Michele" follows, a slower breakup song about a female friend/lover who has packed up and gone; again, the track starts pretty much as expected, then has nice change of beat and feel on choruses. It's a combination that clicks and keeps the listener involved.
For "Lavender Blues," things stay slow and deliberate as Martin sings about the metaphor of a song for a lover: "I thought you were just a melody away…I've forgotten all the right words to say." The track has good buildups, a solid guitar solo by Taylor and isn't damaged too much by the addition of unnecessary audible whisper lyrics during the final fadeout. "Good Times Gone" is another track where Martin's vocal cords catch the ear, a ballad that uses layered keyboards effectively, organic-sounding harmonies, and speeds up the bridges like "Michele," a recurrent songwriting trait that seems to work well for her.
The set closes with "Down," an upbeat country shuffle with the best hook here, which Martin sings about her "history of bad decisions." "We'll go down the road of life together" is the chorus, and the arrangement is a winner, with nicely played, Telecaster-style twang solo-picking by Hunt and a honkey-tonk piano break by Weinstein. Overall, Flare is an engaging glance at a local talent getting some well-deserved spotlight, Lauren Leigh Martin.
CD available for purchase at Laurenleigh.bandcamp.com, Spotify or Apple Music.