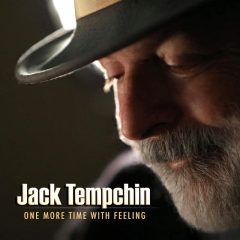 I used to think of Jack Tempchin as a SoCal country-rock musician. Now I'm thinking of him more as a country-western outlaw à la Willie, Waylon, and Merle. Jack has gone through many transitions over the years. I remember his electric band that played the Calypso in Encinitas in the early-2000s. Then, Jack went solo and started performing all-acoustic versions of his songs. Then, he started doing a "song a day," writing a song and posting it on YouTube every day, seven days a week. Now, Jack is back with a fury, fronting an all-star Nashville band that includes ex-Hellecaster John Jorgenson and a host of others. "I did the album in Nashville with some of the greatest musicians in the world!" says Jack. His newfound vim and vigor may be due to the fact that this new album has been released on Jimmy Buffet's Mailboat record label.
The past year has been good to Jack! "My new album, One More Time with Feeling, came out in August 2019 and I was inducted into the Songwriter Hall of Fame. Very encouraging! The new album has a few songs I wrote with Glenn Frey but mostly brand new songs that I am really happy to have people hear!" All of the tunes reflect Jack's new vocal energy while the backing musicians rollick through all 10 songs, trading licks and solos when opportunity strikes. Jack has released almost an album per year during the past decade. "Spotify says 16,000 listeners streamed my songs 48,000 times in 68 countries, so it is worth me doing new albums in terms of reaching people with my songs," Jack says.
And, just as One More Time with Feeling drops, Jack is working on a new album of original material. Having written songs for not only the Eagles but as well as Johnny Rivers, George Jones, Glen Campbell, Tanya Tucker, Emmylou Harris, Trisha Yearwood, and a long list of others, Jack Tempchin has established himself as a journeyman songwriter who sees no point in stopping. He'll be touring throughout 2020 to prove it. He's also working on a concept album in which he is putting music to some of his favorite poems. In addition to his musical quests, Jack is working on a book and a Netflix special. So hold on to your hats!
One More Time with Feeling has a lot of finger-snapping feeling. Certainly, you should stop to listen to Jack's masterful lyrics. But this album will also make you want to head to the honkytonk and dance. For those of you hoping for some of the old Jack, there's a new version of Jack's classic "Peaceful Easy Feeling."