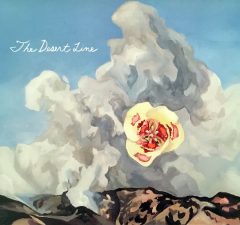 The Desert Line, San Diego natives who recently resettled in their hometown, have been playing Americana music in San Francisco. Their latest CD is a self-titled, NorCal production, and the band for this project is built on the songwriting duo of Jason Phillips and Patricia Pauchnick. Samuel Kaplan-Good on drums and Jeff Krider's bass guitar supplement Pauchnick's vocals and keys, with Phillips on vocals, guitars, glockenspiel, sound design, and some keyboards.
The thing that sets the band's music apart is the fact that they supplement their pop songs with string and horn arrangements (by the songwriters) that add dynamics to the sound and turn some songs into elaborate sonic adventures. There aren't a lot of analogs for their eclectic blend, although the way Wilco added electronic sounds, strings, and eerie atmospherics to its guitar/bass/ drum songs isn't too far off.
"Hear Today, Hear Tomorrow" is a good intro to the sound, sung by Pauchnick. What starts as a relatively innocuous pop ballad gets an extra boost after a minute by string-section power chords, which then join to play melodious counterpoint with Phillips' guitar before the sound becomes overcrowded with backing vocals and finally resolves into a burst of electronic sounds. Overproduced? Maybe, but it actually works well. The single here is "Spend It All," with Phillips's lead vocal trading with Pauchnick's; it features buildups and distorted guitars, and glockenspiel in a catchy mix.
For "What If Your World Exploded Too?" The horn charts provide the chassis for the tune (passages recall Chicago songs from the seventies) as Pauchnick sings of a lost love one: "There are so many ways that you can go/ We try and try, we try to know/ But but changes are fast and changes are slow." The complex song structure of "Incantations" meanders from a start-stop bluesy guitar riff to flowing interludes of keyboards, horns, and soaring voices, then back and forth; a solo by Phillps clicks and the shifting mood works well—right up to another noisy close. Not so for "All Our Friends," a not dissimilar track sequenced next, both sung by Phillips; this one is about several people (Jenny, Daniel, and Lisa, etc.), but a bridge with two dueling guitar solo lines goes off the rails and nearly takes the song with it.
"Living in Their Dream" is a late-program ballad that floats on air and includes what sounds like a string quartet carrying the melody, while "American Roadside" rocks as briskly as any track in the set; Pauchnick's vocal is buried for the most part by the instruments and sound effects, but seems to be about a couple exploring the wide open American spaces. The 12-song program wraps with "Shadowhorses," a quirky tune that uses a strong guitar/horn lick for a while, then shifts gears for a softer bridge with high harmonies on choruses. The Desert Line is clearly an album by a band with a lot of talent and many ideas, many of which work, though the band doesn't seem to cement an identity with a particular sound.