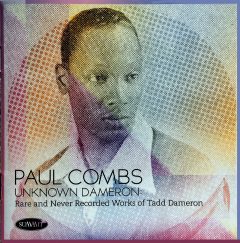 With the encomia to mark the 200th birthday of Herman Melville last month came the reminder that Moby Dick—Melville's book of love, loss, self-triumph, a crazed peg-legged captain, and perhaps America's greatest novel—was almost relegated to permanent obscurity.
But decades after Melville's death, Moby Dick was rediscovered. In addition, Venus de Milo was found after being buried in ruins for centuries. And somebody just uncovered an unknown recording of John Coltrane. Great art can be lost. Like buried treasure on a Pacific Isle, folks also find these great creations. And so it is with great joy that we celebrate the recent release of Paul Combs's Unknown Dameron: Rare and Never Recorded Works of Tadd Dameron.
A contemporary of Dizzy Gillespie, Tadd Dameron was a prominent jazz performer and composer. Dameron worked with Count Basie, Benny Golson, Jimmie Lunceford, and other jazz greats. His songs were recorded by Sarah Vaughn and other great vocalists.
While conducting research for a biography of Dameron, Dameronia: The Life and Music of Tadd Dameron, saxophonist and arranger Paul Combs rediscovered some of Dameron's more obscure compositions and found works that had been lost and unrecorded. Unknown Dameron is a collection of a dozen of these Dameron discoveries.
Combs arranged all of the compositions on the disk. He captures the eras and styles that Dameron worked in, from the muscular bebop of the 1940s to jazz's incorporation of bossa nova in the early 1960s. The musicians that Combs chose for this recording capture the musical zeitgeists. When they blow on a number from the '40s, they stay close to the interpretations that the beboppers would have given these tunes. The engineering also is reminiscent of the sound of jazz recordings from the '40s '50s, and '60s. Putting the disk in the player, the result captures the feeling of listening to a newly found recording from decades past.
Combs chose a roster of top-notch musicians for this project, including pianist Bill Cunliffe. Their work on this recording is flawless. Space and word count constraints don't permit me to list them all. I would nonetheless like to single out one of the performers for mention, singer Danielle Wertz. The young San Francisco Bay area-based performer is a welcome addition to the jazz world. She has a light feel to her swing and great phrasing ability.
Possibly worthy of a biography himself, Combs' life in music has steered him—from working as a jazz musician, Dameron's biographer, music educator to a singer of folk songs who worked with Mary McCaslin and the granddaddy of singer/songwriter folksingers, U. Utah Phillips.
Unknown Dameron is a great contribution to jazz and jazz history. Without Combs' effort these gems my have been lost. It is also a fine recording in its own right, combining great compositions, arrangements, performances, and musical engineering and recording magic to make for a disk to give listeners pleasure for years to come.