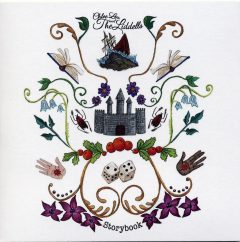 Storybook is the debut EP by Chloe Lou and the Liddells, who have been playing all over town in recent months. Liddell is established in the local roots scene, singing in bands that include the Good Mojo Band and occasionally taking the mic at Farmers gigs. The band was put together in 2018 by her and Chris Davies, whose credentials with local heroes the Penetrators are impeccable, and the two have been writing originals together that jump genres while giving Liddell and her noteworthy pipes some quirky and soulful pop-rock subject matter.
The band on the five tunes includes Liddell's vox, Davies on guitar, Ron Silva on bass, David Fleminger's keyboards, Peter Miesner on guitar, and Richard "T-Bone" Larson on drums. They provide plenty of bottom and groove for the interesting mix of music. Throughout, there is an old school radio rock vibe beneath the surface, helped by Larson's prominent drums, simple staccato surf-inspired guitar lines, and—in all the right places—layers of big Hammond-sounding organ. While the star of the set is clearly Liddell, Davies and the others give her great support.
The opener, "Play the Game," is a good example; it builds momentum from a calm and intriguing intro, busts loose with drum-driven rock power, only to subside to a more bluesy pace as it wraps. The subject matter is Liddell's challenge to a lover: "If I died and took my secrets with me/ Would you find the truth… sometimes it is hard to play the game/ Until it's done." A muscular, surf guitar and drum solo pumps extra energy into this highlight. A lighter tone on "In Our Love" makes it click as a nice pop melody about how to share love is given a power reading by Liddell; the breezy feel isn't messed up by pounding drums and a solo bridge features a guitar duel between Davies and Miesner.
"Shipwrecks" draws a metaphor between a struggling romantic affair and disaster at sea, and again on this powerful ballad Liddell comes through with an impressive vocal as she promises: " I won't go down with this ship/ And I won't have loose lips." Similar emotions are behind the message in "Castle," as she sings about how the castle she and a lover have built has been destroyed in one night. She is still willing to try, but the damage is done.
The set wraps with "The Story is Over" a strong blues-rock power ballad in minor chords with lots of organ and drums pushing the right buttons; Liddell is making this breakup tune's message clear. She is through: "There's nothing I can do to make you be a man." She adds the 21st century lyrical kiss-off that she is gone and has "turned off my phone." As elsewhere, the crescendos and guitar licks work well, taking pages from music like late '60s Vanilla Fudge and the Rascals, and giving it a Janis Joplin edge. It is an approach sure to call attention to this band's Storybook debut.