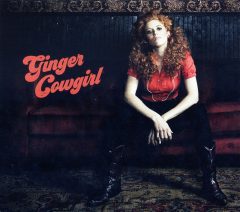 A Nashville country band that is playing a lot of San Diego area gigs, Ginger Cowgirl is built around Stacy Antonel, a gifted young singer from San Diego who also contributes four originals to the self-titled debut EP. According to the band's website, the classically-trained UC grad got started writing music jingles in Argentina, then won a big cash prize in a TV songwriting competition in 2013.
The band now seems to be Antonel and a shifting slate of backup musicians, as the Nashville-recorded and produced disc features six tunes split evenly between two backing groups—likely the result of two distinct sessions, both with cadres of Music City pros. The sound has a refreshing mix of old school and modern spin; the Telecaster twang is ubiquitous, and there are wonderful whines and howls of expertly played pedal steel in every track. Antonel's songbird vocals are instantly endearing, as she comfortably steps into a role with a storied past that has included such giants as Patsy Cline, Barbara Mandrell, Linda Ronstadt and others, holding nothing back.
The opener is "6 Weeks in Nashville," one of Antonel's originals, which chronicles her efforts to break into the scene in the country music capital, "a drinking town with a music problem." She needs a night off from the music scene, but that isn't going to get her gigs, so for now she'll live with the "bad decisions" to get her start. It's a strong track, and guitar figures and dobro hooks help it sink in. "It Was Love" is a traditional country ballad about a love relationship built on passion—and, of course, doomed to failure. Antonel's clever lyrics compare the ardor to cigarettes and beer, satisfying but temporary. Another original, probably her best on this project, "Gone," is a catchy ballad that captures the regret of a failed relationship, "Mamas, don't let your sons be assholes/ And fathers, don't let your sons be brick walls." It has a just-right arrangement with mellow and lovely harmonies underlying its sad message.
The second half of the program features the disc highlight, "Nashville," which Antonel co-wrote with two others, telling how she fell in love with country music—and out of love with a partner. It is a quietly expressed but very memorable song that tells about how a breakup led to a new commitment and life direction, with a delightful vocal. A nod to the past, "Crazy" finds Antonel paying tribute to Cline, but only for a couple of verses, until the song morphs seamlessly into Gnarls Barkey's tune of the same name. After a truly tasty pedal steel solo break, the Cline tune's final chorus caps a great musical idea. A country swing tune with funny lyrics, "Douchebag Benny," wraps the program, about a philanderer who slept through the #Metoo movement, featuring some hot guitar and pedal steel licks—like one would expect in a Nashville project.
Ginger Cowgirl is the kind of debut that assures a strong future for Stacy Antonel, in Nashville and elsewhere.