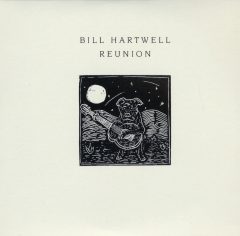 Local Americana fans who have heard one of Bill Hartwell's four previous releases since 2008 already know that the singer/songwriter plays mellow and endearing folk and country rock. He frames it primarily in acoustic, silk-smooth arrangements and loads the lyrics variously with the introspective and personal, often telling observational stories about his, and our, world.
His latest is Reunion, and this batch of 13 originals collects nine new Hartwell tunes while revisiting a few from earlier albums. Produced and engineered by Jim Soldi (Eve Selis Band), who was at the board for Hartwell's memorable 2016 album, Turning Point, it fills out a bit of the empty space in Hartwell's folk presentation, and it doesn't hurt that the supporting musicians include such top-shelf local players as Dennis Caplinger, Soldi, Sharon Whyte, Tripp Sprague, Bob Sale, Ed Reeves, and others. The arrangements frame Hartwell's earnest, pleasant voice in the pocket, with a mellow envelope of harmonies, fingerpicking, and soft percussion.
Hartwell can paint a storybook in the space of a few minutes, with characters and plot twists, like on "American Summer," as he sings about the idyllic season in a town small enough for people to get together for picnics and ballgames. The title track slows things down, but Hartwell is still pushing nostalgia buttons about how so many of us grew out of youthful idealism: "We all went our own way for our own reasons." He astutely sings about how we all now connect—but online, and no real reunion plans firm up until someone dies. He taps into emotions and experiences amazingly well.
A catchy storyboard is "Shoulda Woulda Coulda Café," where it is fun to visit, as long as you leave soon. The patrons relive their past glories and trials, as Hartwell creates more of the quirky characters that populate his music. Piano flourishes help this one sink in, and even Hartwell admits he occasionally visits. "Someday" is a nice rocker about the experiences of a life spent on the road. It benefits from sharp backing instruments and vocals.
Hartwell sings "Crash and Burn" about a humorous and geographic history of his lovers, as the band is boogying along with fiddle/banjo strumming. He is having fun, and so is the band on a track that gives a nod to bluegrass. More intimate is "Unconditional," a soft folk look at his father, with Hartwell revisiting his childhood memories, like his baseball glove, "In spite of all those battles through the teenage years/ Inside that baseball glove I felt a father's love, unconditional." It is a sleeper highlight.
Several tracks here appear that were on earlier albums, including "Tank of Gas" and "Maybe I" from Good Karma, and Soldi's production injects life into them. "Why Aren't You Blue?" gets a blues guitar treatment that is a delight. The set wraps with a "Permanent Outcomes," originally from Better Than Never, about a tattoo and regrets about a bar fight, a quickie marriage and divorce, rendered with rocking guitars and drums that pound it home. Bill Hartwell's stories and songs are a great listen.