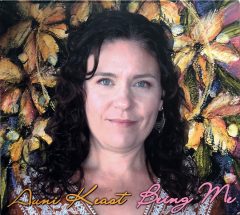 If you are unfamiliar with the name Auni Keast, do not despair! Although she has been around music all of her life, she only began her journey as a songwriter, singer, guitar and ukulele player back in 2014 even though she played the cello as a child.
Auni's father, the redoubtable bassist Gunnar Biggs, is a name that anyone involved in the San Diego music scene over the last 40 years will be familiar with. Gunnar plays it all—jazz, classical, and he's even got a bluegrass/ Americana thing going with MandoBasso, his duet with mandolin master Bill Bradbury.
Keast chose a more "normal" path of existence apart from the world of her father's music and her mother's work as a sculptor and professor of fine arts, working as an emergency room nurse and raising a family.
But sometimes the need to express oneself creatively cannot be suppressed as Keast herself opines in a highly personal cut from Being Me called "DNA," in which she argues that you can't fight who you are.
The music on Being Me falls into a country/Americana type bag, featuring some of the finest musicians in Southern California. It's also chock full of artful production values.
It all begins with one of the strongest cuts on the disc, "I 35," a beautifully constructed narrative that showcases Keast's smoky alto (utterly devoid of artifice) and guitar playing over a strong bed of Biggs' stand-up bass, Dennis Caplinger's subtle banjo, the mandolin of Bill Bradbury, and the supportive drums of Duncan Moore. I couldn't help but think of veteran songwriter Nanci Griffith—a massive compliment in my book.
The lighthearted "Love in December" features Peter Sprague on guitar and Barnaby Finch on piano in support of Keast's intelligent lyrics.
I was most affected by the two duets with her father. "Try Again," (with its KT Tunstall-ized groove) is almost impossible to resist; the aching, yearning "Rain" begins with the gorgeous sound of Biggs' bow, and I had to check the album's credits, because I was sure it was a cello. These two could easily make a convincing document with no other musicians.
Also compelling for me: "I Miss You," dedicated to the folks overseas and the people left behind. Sprague takes a beautiful solo on the western swing-type tune, and "Juanita," dedicated to her mother, features some sweet, jazzy chords.
The album closes with another very strong piece (reflective of wise production values), the highly autobiographical title track. This one boasts Keast's finest vocal performance (I dig the subtle blues inflections) and wonderfully supportive work from Finch, Biggs, and Moore.