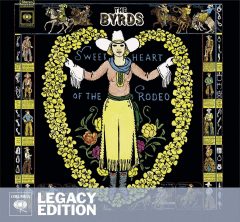 When founding member David Crosby was ousted from the Byrds toward the end of 1967 due to conflicting agendas/egos within the group, it was the second significant departure from the quartet that had managed to thrive after vocalist/songwriter Gene Clark's exit the year before. But when guitarist Roger McGuinn and bassist Chris Hillman were reduced to a duo after drummer Michael Clarke also left the fold, it was time for a serious re-evaluation of where the band's future lay.
After signing a new contract with Columbia Records, McGuinn wanted to pursue a double LP concept, tracing the development of American music through pre-Civil War folk tunes, jazz, blues, country/western, rock 'n' roll, and electronic synthesizer experimentation: space rock. In actuality, if you trawl through the first five Byrds LPs—Mr. Tambourine Man, Turn! Turn! Turn!, Fifth Dimension, Younger Than Yesterday, and The Notorious Byrd Brothers—they had already accomplished that in a less concise manner. When Hillman happened upon singer/songwriter Gram Parsons, a kindred spirit hailing from Waycross, Georgia, Parsons convinced McGuinn to drop the overreaching concept and stick to making a straightforward country album. With the addition of Hillman's cousin Kevin Kelley on drums, this is the quartet that went to Nashville in the spring of '68 to record the revolutionary Sweetheart of the Rodeo LP.
The powerbase of decision-making within the Byrds rested with McGuinn and Hillman, with Hillman asserting how "Gram was a hired [hand]. He was not a member of the Byrds, ever—he was on salary, as was my cousin, but he just took over. But I loved it, 'cause it was my kind of music. It was an exercise for us—Country Music 101."
Whether he was officially a Byrd or not, there is absolutely no denying that the musical direction of Sweetheart of the Rodeo was directed lock, stock, and barrel by Gram Parsons. And if that fact has been somewhat obscured by the 11-track version of the LP that originally came out in August of '68, this revised 50th anniversary four LP Legacy edition for Record Store Day proves beyond a doubt what sort of influence Parsons had over the Byrds musical direction, if only for a season or two.
Sweetheart of the Rodeo has been cited as one of the first "country rock" albums, a designation that Parsons hated—he preferred to call his unique synthesis of C&W, R&B, soul, folk, and rock 'n' roll "Cosmic American Music." Whatever you call the sounds on Sweetheart of the Rodeo there is no denying that it served as a substantial game changer for anyone who considers themselves part of the "Americana" movement from the last three decades. It certainly would have taken a far more circuitous route to arrive at Poco, Workingman's Dead, the Eagles, the Nitty Gritty Dirt Band, or countless others who added a rock 'n' roll backbeat to the pedal steel twang and close harmonies of traditional country music. The fact that a bunch of pot-smoking longhairs were playing music typically espoused by so-called rednecks made for a rich confluence that confounded most listeners at the time. After an era of producing and refining psychedelic music during 1965–67, Sweetheart of the Rodeo was perhaps the most surreal adventure the Byrds had ever embarked upon.
Ostensibly, Parsons was still under contract with the International Submarine Band to Lee Hazelwood's LHI label when recording commenced, and thus many of his original contributions to Sweetheart of the Rodeo were removed. The 11 tracks on the original LP offer up a sublime cross-section of traditional standards, country classics, a Stax/Volt cover, two songs from Bob Dylan's Basement Tapes, and two Parsons originals. A significant number of alternate masters featuring Parsons' vocals began to trickle out on the 1991 The Byrds box set and the 1997 remastered CD of Sweetheart of the Rodeo. But this new four-LP edition, originally compiled for compact disc in 2003, is the absolute mother lode of outtakes, alternate versions, and work tapes. Compiling every known oddity, including a 1968 radio spot, this collection ought to thrill every existing fan of this work. All of these supplemental jigsaw pieces serve to bring the bigger picture into much sharper focus. In addition to the original LP, there are seven additional masters on sides C & D, featuring Kevin Kelley on his self-penned "All I Have Is Memories," along with five crucial Parsons performances that significantly tip the scales. Side E is a spectacular treat of six International Submarine Band songs, including both sides of their 1966 Columbia single "Sum Up Broke" b/w "One Day Week," and "Truck Drivin' Man" from their obscure Ascot single. On these early songs the ISB are as gritty and rocking as Barry and the Remains, which shouldn't be a surprise since Barry Tashian later collaborated with Parsons. Three additional tracks from the International Submarine Band's Safe at Home LP makes it clear what the true precursor to Sweetheart of the Rodeo is: Parsons' initial forays with the ISB into Cosmic American Music territory.
On the last three sides of this beautiful behemoth of a collection are 14 additional demos, outtakes, and rehearsal tapes that give a comprehensive idea of all the pre-production that went into making the album—these are, of course, also dominated by Parsons. The contributions of pedal steel players Lloyd Green and Jaydee Maness, bassist Roy Huskey, pianist Earl Ball, banjoist John Hartford, and future Byrd Clarence White on guitar, should not be underestimated. There is a richness of sound to all of these performances that rivals anything the Byrds did throughout their career. Many props to re-issue producer Bob Irwin, and there are fantastic insights regarding the evolution of this project from the informative and well-written liner notes by David Fricke.
Progress is what you get when you integrate tradition with radical innovation, and in hindsight it is a shame that this was a mere weigh station for everyone involved on Sweetheart of the Rodeo. Parsons soon quit the Byrds to form the Flying Burrito Brothers, eventually luring Hillman and drummer Michael Clarke into his camp, before Parsons was ousted from his own band by the time their sophomore LP Burrito Deluxe was released in May of '70. Tragically, Parsons didn't even make it to the 27 club, perishing at the age of 26 in room seven of the Joshua Tree Inn on September 18, 1973, due to an overdose of morphine and tequila. For a deeper understanding of the side routes and thoroughfares Parsons' all-too brief trip took him, check out the comprehensive two-CD collection on Rhino: Sacred Hearts & Fallen Angels: The Gram Parsons Anthology. Together with this expanded edition of Sweetheart of the Rodeo it will give you all the information you need to find out if you are just passing through a ghost town or inclined to become another card-carrying member of the expanding cult of Gram Parsons. Whatever your inclinations, this four LP set is an imperative addition to the legacy of the Byrds. Essential.