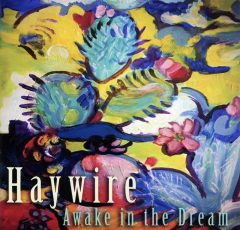 Julian's Haywire made an impression with 2017's Time Songs, as the songs of writers Jim Lydick and Kathleen Beck made good use of flute, violin, and other esoteric instruments—along with plenty of guitar and late '60s vibes—to create an album saturated in the San Francisco Sound. They are back, with the same personnel (Lydick and Beck on guitars and vocals, Maril Parker on fiddle, bass, and backup vocals, Liz on flute, and drummer Paul Gordon; the new album is Awake in the Dream.
This time the band shoots for more of a quirky folk-pop sound, more acoustic-based than their debut—so no comparisons with Country Joe, the Dead, and Airplane. But the angelic harmonies and expert guitar and flute work on the 13 originals still echoes other more folky Summer of Love groups, such as Moby Grape, Sopwith Camel, the Beau Brummels, and We Five.
Beck sings "Strange Jesus," a softly realized memory of a trip to the water's edge "to find myself some soul." The tune blooms with the addition of bass, percussion, and harmonies. The flute helps the bridge add a shift in tone, at over four minutes on a disc of short songs, it tells its full story of soft wonderment. On "Don't Hang On," Beck sings a bright chorus of "Ba ba ba ba's" that lift an already catchy song, supplemented by flute touches. It definitely hails from the late '60s groovy scene and is a highlight.
"Gingerbread" is sung by both lead singers, with a fun, jazzy breeze blowing through. They scat the choruses, and again Parker's flute perks up tune. Beck again sings on "Misty," a ballad with some blues DNA that has a nicely understated guitar solo by Lydick that helps underscore an overall vibe of loss and sadness.
Gypsy vibes drive "Cassandra" as Beck sings above Spanish strumming and exotic flute interplay, "We're assaulted by fear we cannot see/ In our fear have we become insanity…is it any wonder why we're still here?" Again, the band shows the eclectic edge that it takes to go from jazzy to folky to mysterious in the space of a track. Lydick sings "Spinning Around the Town," a semi bizarre glimpse from the perspective of a homeless wanderer whose day is built around picking up French fries from the ground, gathering discarded clothes, and hoping to "merge with the clouds." This Julian/Borrego band touches home base with "Volcan Mountain," a country ballad made catchy by Beck and Liz' fiddle decorations—and with the lilting harmonies that elevate both the tune and entire set.
Many 13-track albums are too long and lose focus, but not here—despite two tunes over four and half minutes the program clocks in under 40 minutes, and after the primarily instrumental "Changes," even the closer "Dust" is a clever and effective shuffle by Lydick that hits all the markers; the tale of a desert town that "leaves a hollow shell behind" when he water runs out. As elsewhere on Awake in the Dream, the flute and harmonies are the band's trademark and will help draw new fans to hear Haywire.