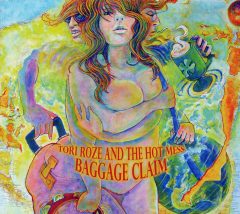 Local fans of soulful jazz vocals are likely familiar with Tori Roze, who with her band Hot Mess have carved a niche in the local scene for nearly a decade, recording four CDs. The most recent, Baggage Claim, is a ten-song collection of band-written originals (with one cover) that are a great sampler of a singer who is all in, and while wearing her influences on her sleeve, can aggressively handle ballads that variously recall Ella, Amy Winehouse, Norah Jones, and other unique and powerful vocalists.
A lot of Roze's success is due to the band's tightness and expertise: she sings and plays kalimba and hand percussion on the new record, while backup vocals and flute are handled by Lee Clark, John Alexander on guitar, Jordan Morita on keys and trombone, Harley Magsino on bass, and Charles Weller adds both drums and keys. "Trust Love" starts off with a smart beat and backing vocals that usher in Roze singing her heart out: "the past is all over now/ give into love and maybe raise yourself up instead." It is self-affirming and catchy. "Show Me" follows, with trombone and flute lines setting up a light, floating jazz cloud; Roze is in the pocket with some power pipes weaving a message about action instead of words.
Alexander lays down a tasty chord framework for "Oh Lord, Please," which, after Roze joins in, becomes a snappy, expressive full-band Gospel-jazz statement: "I thought I could see but I was blind before… Please send me guidance so I know which way to go." Shifting gears back to a smoother jazz feel, "Slow Down" is the disc highlight, a very memorable mid-tempo love song that makes perfect use of all of the band's tools, including unison trombone/flute riffs under the slyly suggestive lyrics.
"Irish Coffee" has a lively rhythmic vibe that has a reggae flavor, a foot tapper that includes solo spots by Morita's horn and Alexander's guitar–rare instrumental spotlights that lift the tune. An urgent drum beat sets up "My Life" as it zips along with a strong undercurrent, while Roze discusses her musical and personal life in terms that include "composing" and "bulldozing," while she tears into the vocal before echoing the themes in both channels more softly.
"Just Say No" has another great groove, as in one of the best vocal performances by Roze here she issues warnings to a prospective female lover that a certain man, (and then a woman) just want to take sexual advantage of her. The album closes with what might be the only misstep, and it is largely a question of taste: a heavy jazz version of "Smells Like Teen Spirit." It is sung a million times better than the Nirvana original, but nonetheless has a lurching beat and lyrics that are a poor match for Roze and the band. But some listeners may enjoy a grinding, trombone-based version of the anthem about mulatto, mosquito, bleakness, and despair.
Tori Roze and the Hot Mess have a winner with Baggage Claim.