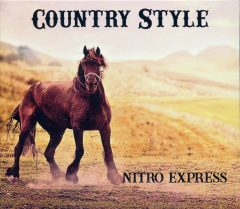 Nitro Express is not only a brand of shotgun cartridges, but is a local roots band active from the 1990s to present. Their CD Country Style is something different, recorded in a day over 20 years ago with pre-digital equipment, never remixed, and rescued from oblivion this year by Jim "Nitro" Pulsifer. Unable to remix, he mastered the tunes on a home laptop and the result is eight tracks that sound damn good for their low-fi background. Pulsifer handled lead and rhythm guitars, Jake Crawford on lead vocals and guitar, and the rhythm section consisted of brothers Steve Cress (bass) and Danny (drums).
The music is bare bones rockabilly, without apologies and needs none. Pulsifer's incisive Telecaster guitar work and Crawford's impressive vocals catch the ear front to back-and he wrote five of the tunes. The title tune is a Willie Dixon standard, to get things loose, showing that Pulsifer can carve the rockabilly licks with aplomb. "Renegade" is an original rocker that wastes no time before letting the lead guitar flash some tricky scales à  la Danny Gatton. After the only misfire on "Sea of Heartbreak" come more rockabilly nuggets, like "Hillbilly Boogie" and "King of Hearts." On several tracks Crawford's rich, deep vocals resemble those of the late, great Buddy Blue of the original Beat Farmers. The single-length tracks wrap with Charlie Rich's "Right Behind You Baby," again leaving nothing in reserve as they blaze through it.
Country Style leaves the listener with the feeling of having witnessed lightning in a bottle, a dose of special excitement.