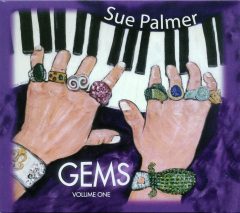 San Diego's Sue Palmer is a pianist known to the world as the Queen of Boogie Woogie, and throughout the 20 selections on her dealer's choice anthology, Gems Volume One, we find the sobriquet is hers alone to wear. A constant and vital presence on the local music scene for 30 years plus, Palmer's energized style of of blues, swing, and jazz has delighted fans with keyboard work that is a wonder of rhythm and delicacy, two-fisted swagger and moaning blues holler, straight ahead improvisation and sweet doses of country and torch songs to make the evening's entertainment a diverse delight. These tracks are choices Palmer has selected from the 20 albums she has recorded since 1980, recorded with a broad array of superlative musicians including Rob Thorsen, Candye Kane, April West, Gilbert Castellanos, and a slate of other players who add their distinct personalities to Palmer's dedication to swing, stop and boogie.
There is a mad stride boogie mania of the opening track "Down the Road a Piece," with Palmer's left hand maintaining a rock steady baseline on the keyboard, and the right hand irresistibly trilling, riffing, and gliding along over the changes. Simple and elegant, against a backbeat of drums and bass that will not let up until Ms.Palmer says it is. Johnny Viau takes a fine honking saxophone solo, growing, wailing, gruff in all the right ways. What makes Gems so engaging is that the tracks and styles catch you by surprise as they play through; more than a revivalist, more than curator, Palmer and her bandmates are practitioners of the diversity of the aforementioned blues, swing, and boogie styles, and will, at times, throw you a left curve that delights gloriously. In this case, it's the rousing gospel of "I've Been Walking," with a soul-stirring vocal by the irrepressible Missy Anderson, a pumped-up band creating waves, a solid rhythm and fleet beat for Palmer's thick, rich chord work and percussive phrasing.
Blues, boogie, and swing, the core of Palmer's musical soul, are a music often associated with the woes of the road, with hard travelling and the search for a place to rest, if only brief. Perhaps coincidently, two very fine tracks involve hospitality, hotel, and motel, first with a sly rendition of the chestnut "Heartbreak Hotel." Skewing closer to the Big Mama Thorton original than the classic Presley version, the song combines the laconic fatalism of a good country ballad and the mourning minimalism of the most despairing, dead end blues. A bit later, we drive past the track "Motel Mambo," a lament, a confession, a tell-all in lithe mambo syncopation. Deejha Marie's sexy, casually jaded vocal outlines the characters and their storied comings and goings. Gilbert Castellanos takes a scintillating trumpet break, fast tonguing and rattling trills that give this song a short and inspired moment of scorch, taking full advantage of Palmer's rattling piano work. All told, Gems, Volume One is a 20-course meal, the work of a fine musician dedicated to the genius of the blues. Blues, swing, blues, country, gospel, it's all here, a diverting collection of what Sue Palmer considers her best work since 1980. This is volume one? More, please, and soon.
CD release on July 3, Tio Leo's.