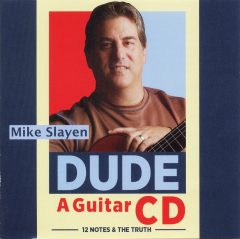 I take the CD, DUDE: A Guitar CD, 12 Notes & the Truth, from the jewel case and pop it into the CD player. The disk is by Mike Slayen, who has been making a name for himself as one of the finer classical guitarists in southern California. So I prep myself for a nice afternoon of classical guitar. I've got my slippers on, have my glass of white wine in hand, and am ready to settle into a recording of familiar classical guitar repertoire. I'm ready to hear a rendition of Austurias and perhaps a Bach prelude or two.
But what comes out of the stereo speakers is percussion, and a bass, a groove, and riffs played on the classical guitar. WHAT?!? I grab the jewel case. Examining the case I learn that DUDE is ten compositions, nine by Slayen and "Human Nature," the Michael Jackson song that was part of the soundtrack to the eighties. DUDE is, it turns out, a pop recording. Okay, before all you classical guitar folks get all snooty and highfalutin on me, give it a chance. DUDE is a pop recording, but it's a really good pop recording.
Slayen is a well-trained classical guitarist, but his roots, as with many a guitar player, were planted in the great sonic continent ruled by guitar, the Land of Rock. Before he was studying Segovia, Mike Slayen was ripping riffs from Yngwie Malmsteen, Eddie Van Halen, and other guys with Stratocasters and large amps filled with tubes. Those rock and pop bona fides are on display with this recording, making for an immensely listenable CD. Each tune has a great balance of what comprises a pop tune: memorable melodies, nice contrasts, and great hooks.
Although the instrumentation is limited to bass, percussion, and guitar, Slayen incorporates a great deal of variation in his compositions. From the almost breezy opening tune, "Chill," to the light rocker "Jasmine" with its electric guitars, the variety makes the disk a joy to listen to, and it's one thing I appreciated more and more as I listened to this disk again and again.
Josquin Des Pres does some fine bass work on this disk. In a sort of Lynard Skynardesque overload of guitars, Jason Megraw, Genene Johnson, Mace Thompson, Chloe Valdez, and Greg Allen pump nylon on the tune "Ice Cream." A particular treat, accompanying Slayen on the last composition, "D'Auria," is one of the most distinguished classical guitarist and educators in southern California, Fred Benedetti. His performance here adds a real spark. I see no studio credits on the disk, but whoever did the engineering and other production work on the disk, that person did a fine job.
So when you pop DUDE into your CD player, which I highly recommend, I might also suggest that you set that glass of wine aside. Crack a beer instead. Tap your toes, get into the groove, and listen to some very enjoyable music.