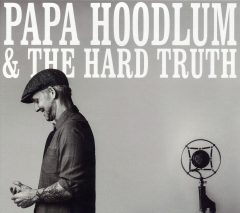 Papa Hoodlum & the Hard Truth is a new album that teams up J.D. Boucharde and his crew of roots players. Local roots music aficionados will be familiar with Boucharde's involvement in such projects as his one-man musical called Happy Songs About the War, and he released an album in 2005, Contra Mundum. A musician with a colorful history; his Facebook page contains favorite quotes by Goethe and Voltaire.
The new project consists of ten Boucharde originals, a rousing collection of country-fried Americana, drawing on his clever lyrics and abilities as a storyteller. A big part of the success is the ace musicianship on hand from the Hard Truth. Besides Boucharde's lead vocals and piano, the band includes steel guitar from Brian Thomas, Jeff Duncan on fiddle, Brennen Nase on bass, Danny Patterson's drums, and Robert Coler on organ. Ken Reynolds, Matt Silvia, and Jim Soldi contribute on guitar while the backing singers include Christopher Dale.
"One Good Eye" opens, a strong start, as Boucharde introduces his first quirky characters, including "Mr Corporate" and "Miss Society" fulfilling their roles; everyone seems happy as long as he only looks at it with one eye closed. The music driving the story glides on shimmering, spot-on pedal steel and keyboards. Keyboard hooks ring in "Cold Cruel Tyrant," which finds Boucharde singing about his female nemesis: "That Joseph Stalin in you lingers/ When you rain you really pour/ You play that little miss bossy finger/ But I see now all I want is more and more of you."
The disc highlight is likely "Train Song." In the tradition of hundreds of honky-tonk country breakup tunes about freight trains, it has the crying pedal steel, the lyrics about tears, and the lonesome hobo. It also hustles home on some of the sweetest guitar picking recently heard anywhere. Boucharde sings on "Turquoise Highway," another song where his lyrical storyboards and imagery stand out—he can sing about the object of his affection and the sun and moon telling one another jokes, and it sounds sincere and musically clicks.
Guest vocalist Emily Cole delivers a nice job on "17," which has plenty of observations about the state of day-to-day life and adolescent angst. It's Boucharde on the soapbox for "Not My USA" and he takes the opportunity to go after TV preachers, materialists, guns, and social media as the band rocks and cranks out some fluid fretboard fills. When a guy like Boucharde gets into a memoir about life on the highway—"Behind the wheel again, I'm lookin' where I've been/ Outside and within, the dark road stretches out forever"—as he does on "Feels Like Home," the listener believes it—he comes across as a guy who has lived it. That's likely the reason that the album's closer, "Aunt Sues' Bar & Grill and Good Time Blues, 1952" fits so well. The rollicking blues includes a side of Gospel plus characters including Elvis, and of course Aunt Sue. Papa Hoodlum & the Hard Truth is a great listen.