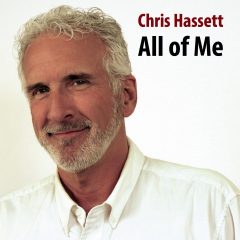 Since who knows when, Chris Hassett has been performing at small venues and special showcases. And over the last several years he has quietly been releasing disks. San Diego is lucky to have this fine talent. Simply put, Hassett is a masterful crooner who is gifted with a rich baritone voice. He has a refreshingly light approach. On stage, he is a gracious performer with a good-natured wit. His latest release, All of Me, is a baker's dozen of mostly jazz and American Songbook standards that delighted me from beginning to end.
Hassett gathered some of the best talent San Diego has to offer for this disk, employing the Danny Green Trio, one of the best jazz units around. Green (piano), Julien Cantelm (drums), and Justin Grinnell (bass) give Hassett a solid backing on the American Songbook numbers. Peter Sprague, who is, well, Peter Sprague, masterfully joins in for two or three selections.
Hassett has worked for a long time with pianist Drew Massicot, who backs Hassett on the disk's Sondheim and Leonard Cohen numbers. The standards of both musicians are high, and their partnership has developed into one in which their talents meld exceptionally well.
The interpretations and performances are fresh. I'd be willing to wager that the chosen tracks are the first or second takes from the recording session. The CD was well recorded, with a good balance between vocals and the backing instruments. And All of Me gets six and a half bonus points for having 53 minutes (almost an hour!) of music.
I think I've reviewed all or almost all of Hassett's CDs. I've liked them all, and I think that I'm just now figuring out why. Whatever the song may be—a ballad, a swing tune, or a Broadway show tune—Hassett has the ability to evoke perfectly the tenor or emotional content of the lyric. With a lighthearted and swinging delivery he displays the playful flirtatiousness of the title track, "All of Me," and just as readily in the very next tune he taps into the dreaminess and devotion of "The Very Thought of You."
If anything, Hassett is a balladeer. Not only is this his strongpoint, but he also cleans the clock of other balladeers. I've heard many of the songs on this collection dozens, possibly hundreds of times. So it was a real pleasure to hear the quiet verve Hassett's low-key interpretations give to "Send in the Clowns" and "Alfie." I confess that I've grown tired of both of these songs, but Hassett brings back the pleasure I remember experiencing from hearing these songs for the first time.
The word on the street is that Hassett is making a go of becoming a full-time performer. In my opinion this move has been long overdue. If you have a chance, do catch one of his performances. You will not be disappointed. He puts on a fine show. You can also get his CDs; they're all great. And this one, All of Me, may be the best one yet.