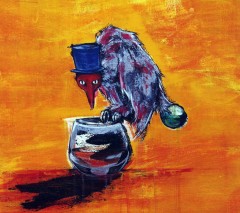 Always nice to be immediately greeted by a pleasant voice with clever phrasing, quirky lyrics, and not-so-obvious chord changes throughout this six-track goody from the Liquorsmiths. Led by Drew Thams on acoustic guitar, lead vocals, and standup bass on four tracks, the trio is rounded out with Clayton B. Payne on drums and Ryan Fischer on keyboards. A bi-coastal production, recorded both in San Diego by Patrick Norton at Citizen Recording and in Atlanta by Jeremy Grelle at Inhesion Studios, the album was also mixed and co-produced by Grelle, along with Thams as co-producer and author of all six songs.
The uncluttered production, absent of obtrusive electric guitar solos and overbearing orchestral arrangements, allows Thams' lyrics and powerful voice take center stage throughout each track, often bringing to mind the similar songwriting formula from Counting Crows. "Coy With Me," recalls memories of a time that was via adventures in the city by the bay,with Thams showcasing his impressive vocal range behind a lilting rhythm from Payne on drums
The hard driving "Get Well Soon," powered by Thams' rhythm guitar inflections, reminds one of classic R.E.M, as he coos "I feel so young when I'm with you." A lovely 3/4 waltz tempo sets the mood for the ballad "Iris' Song," with Thams' voice eloquently reaching the sky in the final chorus: "tell me what will you do… whatever I have to."
The pop flavored tune "Thief" adds a tasteful synthesized string section by Grelle along with backing harmonies from his wife, Jennifer Hickey, culminating in the most lush production on the disc and highlighted by Payne's various syncopated drum patterns. "Devil I Do" returns back to implementing a 3/4 groove, always a refreshing change from the endless 4/4 time signatures that songwriters get stuck in. Accompanied by Fischer's melancholy organ tones, Thams weaves his way through a series of beautifully phrased lyrical passages with a more intense and darker set of lyrics, akin to early Bob Dylan's lyrical stream of consciousness.
The album concludes with a strong finish as the laid back "Day by Day" builds with intensity, climaxed by a full vocal chorus from Grelle and Hickey. Overall, Thams' well-crafted lyrics, generic arrangements, and omnipresent vocal passages, makes for an entertaining and delightful listen.