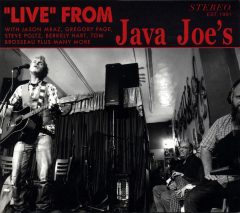 The tiny storefront club on Adams Ave that is Java Joe's isn't its first incarnation. Dating back to 1991, local artists who later found larger audiences made their early marks in Joe's Poway, OB, El Cajon Blvd., and Hillcrest locales, including Jewel, Jason Mraz, Steve Poltz, Gregory Page, and Jeff Berkley. These and many other top local roots performers still play in the Normal Heights venue, as evidenced by "Live" From Java Joe's. This CD contains primarily songs from a January 28 show that featured over a dozen local artists, supplemented with a few other late January live tracks recorded at Joe's.
The 17 tracks are all by different musicians, nearly all acoustic and comfortably in the Americana, singer/songwriter genre. Which begs the question: why after 16 nicely recorded songs that fit together so well, the decision to wrap with a five-minute plus song with Bushwalla working the crowd (from another night) to a drum groove with some clever, lightweight improv/rap? Anyway, aside from this, the lengthy program flows well for nearly 76 minutes.
The first tune is, appropriately, "Folk Singer," and Poltz works his usual magic with the crowd on a hilarious tune that spells out all the ups and, mostly, downs of the life of a "washed up punk" playing folk music in clubs just like this; he has them chanting the chorus lyrics halfway through. Mraz sings a Carlos Olmeda song, "Dear Anna," and weaves beautiful harmonies with Toca Rivera. The Lovebirds take the listeners for some tender nostalgia about a science experiment as "Volcano My Volcano" manages to bring a smile and a load of metaphors, "I feel kinship with a mountain that chooses not to melt."
Berkley Hart sing the title tune from their double album Fleur de Lis, a touching personal song of farewell as the singer is leaving his New Orleans lover and family for the left coast. "The Dark Garage," gets a raw and spontaneous reading by North Dakota's Tom Brousseau, giving the folk tune about childhood memories an early Dylan feel. Christopher Dale manages with his "Love Is a Song" to make the process of putting a folk song together into a catchy tune, while describing still being stuck in the first verse, and wanting help with the chorus – then laying on the real chorus. Jeffrey Joe lays down a typically funny and poignant song with "Don't Get to Know Me," with lyrics about "I might die, I'm really old you know… drop like a sack of spuds." He doesn't mind kidding around with the listeners, who no doubt know about his brushes with illness in the past, with jokes like "Grandpa Lars, is that you?"
On an album this long, there are too many good tunes to mention them all, but some of the best include "Best Friends" by Page, Dave Howard's "Better Honey Than Wine," and Cindy Lee Berryhill singing "Gravity Falls." For those who missed the original show and want a one-shot snapshot of good, live music by a great array of local roots singers, "Live" From Java Joe's works just fine.