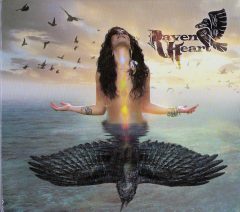 Raven Heart is the second CD release by Rachel Lynn Sebastian, whose West Coast tour in support of it has been hitting local spots recently. Her specialty is alternative pop with an emotional edge, and the dozen songs on the new album are originals by her and her collaborator, cowriter and co-producer Bryan Lettner. She cites Tracy Chapman and Lauryn Hill as influences and has been compared (unfairly) in hyped press bytes to Adele, but the reality is that Sebastian is a talented singer with good range and presence, whose vocal versatility performing songs with different flavors is what makes the album work.
The slick studio production serves Sebastian well, as the songs bounce from heavily dramatic power ballads to light pop to clever funk, and all of the arrangements surround her in envelopes of tight, smooth guitars and keyboards. "Happy" starts off on the right foot with a driving acoustic guitar/organ riff, with Sebastian taking charge to lead big choruses. The next two tracks are power ballads "Never Enough" and "Crazy Crazy Crazy"; these are both given big production (over-driven guitars, layers of keys) and loaded with vocal drama — but not too much. The arrangements give Sebastian chances to soar and express herself while conveying the first-person romantic anguish of her lyrics, as on "Crazy": "'Torn' is not the word/ I'm 'terrified' to be without you." She actually makes both tunes click and avoids loading the whole album with these, or making them drag too long — though when "Oh, Spirit" tries to go to this well for the third time, for over seven minutes with droning keyboard strings and outcries, it overstays its welcome.
"It's Me" tries a different tack and succeeds, as Sebastian stays in the personal romantic confessional mode, but this time starts with just acoustic guitar and vocal, with big choruses again joining in, "Yes, it's me, I'm your dream." After a number of heavily arranged rockers and ballads, the disc highlight arrives, a light pop number called "Faithful Sunshine." This one screams radio-ready with an infectious melody and an undeniable hook; Sebastian's vocal is a straight-up, unaffected delight. Another pleasant surprise follows as "Sunday Night Fever" is a smoky guitar/bass/keys blues, a mid-tempo burner, and casts her vocal chops in a different light than elsewhere for three minutes. The eclectic run continues: "Ornery" is fun, finding Sebastian chewing out a boyfriend for dissing her, to funky wah-wah and tom-tom drum riffs: "Don't you try that right now/ Don't you try that/ Honey, I am so far from horny right now." The disc wraps with an arresting and atmospheric tune, "Forty Nights," which gives Sebastian one last chance to successfully give an emotional charge to a song.
Raven Heart has something for just about everybody who enjoys alternative pop. Rachel Lynn Sebastian has the voice, and the material here rises high enough to make for a good match.