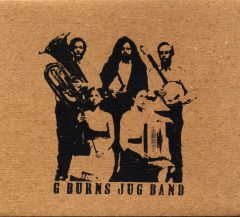 American traditional music from pre-World War II is the focus of local acoustic group G Burns Jug Band. They play old cowboy songs, train songs, and proto-bluegrass, mostly songs first made famous in the 1920s or done by artists like the Watson family or Woodie Guthrie in the 1940s. Their self-named debut CD is a nine-tune affair that has a densely-mixed, primitive sound that mirrors the original recordings of these classics — no need to gloss up a song handed down from 90 years ago that sounded perfect when first put on a 78 rpm by someone now revered.
The band members on the new disc are Clinton Davis (guitar, tenor banjo, vocals), Battya Magadam-Somer (fiddle), Meghann Welsh (accordion), Jonathan Piper (tuba), and Sean Francis Conway (washboard, percussion); Andy Rae recently took over the washboard slot. Piper gives the band a bass thump, and the banjo and fiddle have a delightfully old-time feel, just screechy and plunky enough to sound a lot like the originals.
The opener is "The Train That Carried My Girl from Town," a rousing rendition of a traditional song first recorded (probably) by Frank Hutchinson in 1926, with a famous version later by the Watson Family. This hillbilly rave-up catches fire right away as Davis' vocal is buried in the murky, mono-sounding mix, which sounds like a freight train hauling ass down the track with some fiddlers and banjos pickers on board. There are five instrumentals here, and "Banjoreno," an old tune originally from Clifford Hayes' Dixieland Jug Blowers, gives the spotlight to Magadam-Somer, who takes good advantage as the band swings away with a toe-tapping accordion dance rhythm. "Cowboy Waltz" follows suit, and here the accordion and fiddle variously join and parry for a quieter moment.
"Ft. Smith Breakdown" picks up the pace again right away, another traditional early bluegrass blowout that is a highlight, with Davis heating up the guitar fret board, then Piper taking a tuba solo that fits right in. Three of the disc's vocals are sequenced together at the end, starting with "There's a Brown Skin Girl Down the Road," which re-plows the same ground as the opening "Train" song, but is another standout anyway. The band is going full speed with hot fiddle leading the charge on this clear jamboree tune, which even features some square dance calling by Davis. Catching their breath, another waltz follows, the traditional cowboy tune "Goodbye Old Paint," sounding thin on choruses, but given the authenticity of the rest of the music here, it may be by design. "Railroadin' Some" was first cut in 1927 by Henry Thomas, here it is wraps up things with Magadam-Somer being the whining whistle on the chugging engine, Conway's board keeping the clatter of the tracks going, and some nice vocal touches by passenger Davis, who is on his way but doesn't know where.
G Burns Jug Band hits its nostalgia targets well, serving as a time capsule of Americana sounds from a period generations ago, now remembered in song.