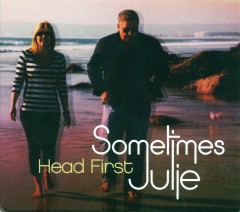 There is no Julie in Sometimes Julie. It is actually a duo of San Diego-based musicians: singer Monica Sorenson and multi instrumentalist Rick Walker. He had experience playing blues and classic rock in clubs in the Midwest and elsewhere; she loved karaoke and writing poetry. They met, and now he writes the music, she writes the words, and they have new full-length debut CD titled Head First.
The new album is a very generous 14 original tracks, beautifully recorded by Andy Machin, with Walker playing most of the instruments. The title track gets right down to some blues-rock business with Walker carving out some wicked electric slide guitar on a pleasing rocker, while Sorenson sings with an attitude, "If you want to fly with me, Close your eyes, take a breath, go all in." Her lyrics (included, a plus) throughout concern interpersonal and romantic wants, needs, and adventures, told from a first person perspective; they might edge on fluff or sappiness in spots, except for the aggression and catchiness of Walker's musical packaging. For example, "The Dream I'm Dreaming" is a wordy ballad of dedication to a lover, which clicks because of a memorable hook and an arrangement featuring Walker's Leslie-speaker guitar licks topped by layers of lovely harmonies by Sorenson. These two don't seem to shoot for a country crossover, but may have one anyway with "Wishin' You Were Here," again with her crisp harmonies snapping the choruses on a clear disc highlight.
On most 14-track discs, there are tracks that are obviously filler. This one has a few that aren't arresting ("Time Flies," "Broad Brushed Skies"), but none that seem too weak to include, despite its 58-minute length. The best songs have the kind of classic, AOR feel of good '70s and '80s female-harmony soft rock (without the synthesized drums or over-production), like Sheryl Crow or Fleetwood Mac.
Sorenson gets down and rocks out on "Charity," which powers through on Walker's chunky, brisk guitar strumming while she sings lyrics about wanting to get physical with her lover. "What a Rush" follows, with an interesting keyboard lick and cello touches that repeat, while she sings about being "enraptured" by her love's "beautiful soul." This ballad is one of the best on the disc, though it starts to lose steam by being stretched to six minutes. Piano (by Charlie Recksieck) helps push "Follow Me," another song that is elevated by its arrangement. This one has a latter-day Mac vibe and smooth-as-silk layered sound that blends harmonies, keys, cello, and acoustic guitars into a standout track. The same goes for "Everything," which starts small with Sorenson singing "You might be the universe/ Unfolding before my eyes/ But if I'm afraid/ To give it all up to you?" The song adds backing vocals and keys for crescendos that resonate and fulfill the promise of the lyrics.
With Head First, Sometimes Julie have taken an impressive step forward to show their abilities as songwriters and performers. It is a great listen.