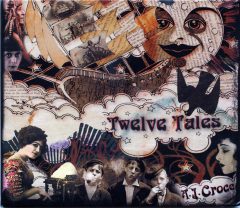 A.J. Croce has always been an exciting and dynamic performer. To experience this now seasoned musician live on stage is for most folks is an unforgettable event to be listed in the "one of the best concerts I ever went to" category. A solid vocalist and piano player, Croce has just released Twelve Tales, an ambitious assortment of a dozen tunes that is certain to please his many fans and gain him a great deal of newfound attention.
If anything, Croce is a creature of American/British pop. Indeed, as he tells us in a note on the inner sleeve, Twelve Tales is intended to be a "cohesive collection of 45s." And that is precisely what he has achieved in this package. Listening to Twelve Tales is almost like turning on the radio circa 1960 through 1990, with one hit tune following another, albeit without the voices of disc jockey Wolfman Jack or the count downer of American Top 40, the late Casey Kasem.
Pop is the crack cocaine of the music world. It is designed to climb through your car stereo and captivate you for two minutes and 41 seconds. Its purpose is to grab you with a catchy hook and have you singing along with a chorus that sticks in your brain all day and won't leave till you've laid your head on your pillow (and sometimes not even then). You can hear this throughout Twelve Tales, with echoes of the soul confections of Motown; the pop/blues/Broadway mixture of the Beatles; the hits of Michael McDonald, Kenny Loggins, Elton John, Elvis Costello; and, yes, Croce's father Jim.
For this recording Croce set out to work with six of the top record producers in the country: Allen Toussaint, "Cowboy" Jack Clement, Mitchell Froom, Kevin Killen, Tony Berg, and Greg Cohen. I'm agnostic on whether the different producers made that much difference in the sounds of the songs. Some tunes sound more sweetened than others. "Call of Love," produced by Michael Froom, is the one tune on the disk that sounded the best on my stereo.
Ever since CDs eclipsed LPs as the medium for the mass consumption of recorded music, recording packaging and artwork have become more of an afterthought, as the size of a CD sleeve is about ¼ the size of an LP record. Croce bucks this trend with Twelve Tales. The artwork and packaging of this foldout CD sleeve, which includes a booklet with the lyrics to all 12 songs, is attractive and, as a collage, indicative of what the listener might expect from this recording. I particularly enjoyed the liner notes that included not only the musicians and their instruments, but excessively exact descriptions of the instruments used. I now know that one of the basses used in the recording was a 1980 Hofner upright bass with gut strings and a set of drums used in another recording session were 1948 Slingerland Radio Kings that were won in a Gene Krupa drum contests in Brooklyn.