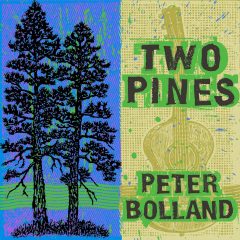 Local roots rocker (and Troubadour columnist) Peter Bolland plays California music, the hybrid style of country-rock ushered in by Neil Young, Gram Parsons, and the early Eagles, among others. Bolland is a master of evoking the unhurried stumble-step of Young's ballads, the catchiness of the Eagles' rock hooks, and close harmonies and country-wise feel that made Parsons an icon. He also manages to transcend his influences, giving songs his own flavor.
Bolland's last two CDs featured his trio the Coyote Problem, most recently California (yup) in 2007, produced by local studio maestro Sven Erik-Seaholm. He is back with a new solo album, Two Pines, again with Seaholm at the board — a good move, as is recording all of the instruments and vocals himself except for Jim Reeves (bass) and Bob Sale (drums), with Seaholm's help on piano and banjuke. The disc is a nicely blended palette of 14 Bolland originals, varying from spare to lush.
The title tune opens with the ambling drum gait from several slow Young tunes, bringing in acoustic guitar, lap steel, and harp, then Bolland's deep vocals and richly blended harmonies telling the story about the timelessness of nature, told through two tall, ancient trees. Bolland has a day job as a philosophy and religion professor, but he was once a surfer who enjoyed the party life; "Take Me to the Beach" is a slice of autobiography: "What if I told I was still that kid? Would you carry me over all the things I did?" Some of us who raised hell in youth, then settled, will identify. "My Favorite Song" is a slow ballad with a distinct singer/songwriter vibe, as Bolland is taking stock of his life while on the road.
Following a couple of slow tunes, "In the Rain" is an ear-grabbing rocker, burning with the kind of energy that made the Jackson Browne's "Take it Easy" a hit. Brisk acoustic strumming and sharp harmonies soar high, and Sale's insistent beat drives the tune as nicely carved electric guitar solos fit the catchy highlight perfectly. The level doesn't drop as "The Longing" goes for an E Street feel and succeeds: a homesick GI's lament, "It's just about a couple of clicks from Fallujah to a soldier's bed/ I'll be dreamin' of home before the pillow ever hits my head." It nails the angst of the soldier in the distant desert, managing some of the scale of Springsteen's wall-of-sound anthems, another standout. "Hands" makes three winners in a row, as Bolland sings a memento about key moments of personal spiritual awakening, to one of the catchiest hooks on the disc.
With "Sand County Time" Bolland saves one of the best to close the disc, a powerful, catchy rocker with beautifully layered guitars, vocals and harmonies; it leaves the listener wanting more. Other memorable songs include "Driving Around" and "Iron Road," and there's no real dross — a feat on a 59-minute disc. Front to back, Two Pines is a generous collection of first-class roots rock by Peter Bolland, with much to enjoy for California music lovers.
CD release Friday, June 27, 7pm at the Unity Center, 8999 Activity Rd. www.peterbolland.com