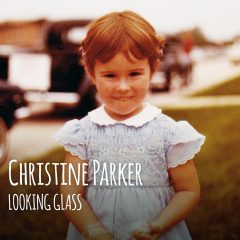 Fallbrook native Christine Parker's debut CD, Looking Glass, features a solid lineup of local session musicians in support of her finely crafted songs and melodious vocals. Looking Glass contains 11 songs, ten of which she wrote. Parker is backed by two members of the Eve Selis Band, Marc Intravaia (guitar) and Rick Nash (bass); string virtuoso Dennis Caplinger (mandolin, fiddle, banjo, dobro, guitar); Bob Sale on drums; Ben Moore on organ; and Carter Dewberry on cello. Parker contributes lead and backing vocals, guitar, piano, and mandolin. Looking Glass was recorded and mixed locally at Studio West, and produced and arranged by Marti Amado.
Parker worked as a therapist in Missouri before returning to San Diego in April 2012. It is no wonder, then, that the theme of many of her songs is feelings, helping, and healing. The opening track, "Who I See," is a gentle, soothing ballad with a simple guitar arrangement about encouraging a friend who is struggling with life's challenges. Harmony vocals by Zach Meyer complement Parker's lilting, pitch-perfect voice. The more somber "If I Gave All" is about the trepidation of sharing one's true feelings of affection with someone: "I've thought of telling you how I feel inside but/What if I speak out of turn/Would you confess your happiness if I gave all to you?" "Back to You" is a bouncy ode to budding romance with some tasty mandolin, banjo, and dobro licks courtesy of Dennis Caplinger. "Until Then" is a lushly arranged breakup song, with the poignant chorus "Is this love or is this pain, I just can't tell," and the lament, "What if it's too late?" Ben Moore delivers some moody organ riffs, with Parker (here and elsewhere) dubbing her own harmony vocals.
"Close to You," my favorite track, highlights Parker's clear, pure voice in an elegy to unrequited love. Parker boasts a wide range on display here, subtly aided by Marti Amado on piano and Colin Tedeschi on backing vocals. Cello accents add to the melancholy mood. "Lucy" is a sweet tribute to the blessings of a new baby, punctuated by jazzy bass notes and some scat. Parker accompanies herself on piano in "Morning's Light," a lovely love song. "While I'm Gone" is a travel song and about the comfort of hitting the road knowing that love awaits your return. The spare "Stay with Me" is a soulful reflection on the sometimes-perilous journey that leads to two souls finally connecting. "No Scrubs," the only cover on this album, features Tommy Aros on percussion. "Lullaby" is just that, a simple bedtime song – comforting and assuring: "Close your eyes and sleep/I'll pray your dreams are sweet and grand/As I hold your little hand." It could become a classic.
Parker draws her influences from artists as varied as Norah Jones, Sarah McLachlan, and Alison Krauss, but to my ear the clarity and purity of her voice most closely resemble Joni Mitchell. Looking Glass is an auspicious debut.
www.christineparkermusic.com