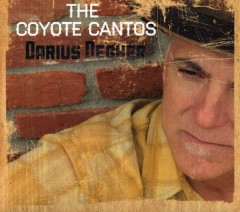 The Coyote Cantos is the latest from Darius Degher, one of those veteran Americana performers whose resume dates back decades. In addition to playing locally and on LA and New York stages – with Darius and the Magnets and in Waren Zevon's band – Degher is a songwriter, poet, and multi-instrumental "string specialist" who learned to play the sitar from Ravi Shankar. His previous CDs include his own Cardboard Confessional and 2004's Poor Man's Vacation, recorded after he relocated in the late '90s to Sweden with the alt-country band Burning Bridges. His new disc, The Coyote Cantos, is the first music from him in eight years.
Written and recorded by Degher, this is laid-back roots music, a dozen stories about life and vivid characters in the American Southwest. The tunes are anchored by superb guitar, banjo, and other instrument work by Degher, Don Teschner's fiddle, mandolin, lap steel, and dobro, and plenty of B3 organ and accordion by Carl Byron. Phil Leavitt adds drums and Degher's daughter Cleopatra is the backing vocalist. The eclectic batch of songs get bonus points for an insert print-off that includes all of the excellent lyrics.
Two of the three first tracks make one thing clear: Degher has found his true calling as a poet: "Edge of the Western World" and "The Ballad of Bob and Oblivion" are musically similar, pleasant mid-temp country-rockers but they each  manage to tell, in a few minutes, almost epic stories. "Edge" channels a tale of the rise and ultimate decay of California, seen through a young woman's eyes, invoking Huck Finn, Indians, and the Gold Rush. "Ballad" chronicles the life story of a California misfit couple who find meaning in a mellow hippie life and each other: "They got on the high road/ For the American dream." These tunes and others on the disc get pristine instrumental latticework and throughout, for all of the focus on Degher the wordsmith, his talents (and Teschner's) as pickers are impressive.
More character studies follow, including "Gas Station Lady" about the wacko woman out in the sticks who swears she was abducted by aliens and who has "been to area 51/ She said the aliens took her son." Then there is "Rosie the Engineer," a sketch of a female train driver with a catchy 3/4 time chorus, as Degher's wistful tale relates the history of the rails. The catchiest song on the album is probably "I Been There," which gets the foot tapping with an infectious rock beat. Another standout track is "Leucadia Love Song," a soft, melodious waltz with warm harmonies. "Home at last, got no more ramblin' in sight/ So I'll sing a Leucadia love song tonight." "You Were Gone" is a bit more of a personal love song, with a bluesy pulse – and uniquely featuring a blues solo played on a sitar.
Song after song, the theme in The Coyote Cantos is California music, a memoir of a long-time traveler watching the people and features of this crazy part of the world, spinning tales, and making observations