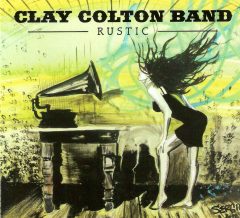 Want a good roots band? Start with a great singer who can write memorable tunes, add a bunch of ace side musicians, then road test – playing everything under the sun for hundreds of gigs. North County's Clay Colton Band is one of those outfits that fits this mold perfectly, built over the course of over a decade around Colton's rock-solid vocals, playing Neil Diamond and Pink Floyd covers, originals, and Irish pub-style rock. The personnel on the band's website and new CD, Rustic, include two drummers, two bassists, a fiddle/mando string specialist, harp player, lead guitarist, keyboard/guitar player, and Colton's own guitar, mandolin, and uke. Five of the members besides Colton sing.
The dozen songs are mostly alt-country written by Colton, with contributions from other SoCal writers including Diane Waters and Mickie Arnett (who wrote two of the best tracks). The disc is well-recorded (by Colton), who manages a nice balance that allows the horde of cats to step in and flash some chops without burying one another.
"Raised on Rain" starts with a good dose of power country rock. Grinding guitars lay down serious riffs while Colton defiantly wails, "Where I come from we don't back down." The band is tight, the arrangement edgy, and the story is based on the classic country "little guy fighting the system" theme. Radio seems to be the destination for "12 Pack Man," an infectious rocker about how he doesn't want to pretend to be one of those TV guys with a six pack, perfect tan, hanging with bikini models. Brought home with ear-catching guitar and fiddle solos, it is a highlight. Mandolins and acoustic guitars make "Drown in Your Love" a change of pace; then "Dixie Highway" finds Colton singing another country-flavored winner. This one, about a Southern princess, who comes to California for some "West Coast fun," is five minutes of rollicking fun.
The mid-tempo "California Rain" is a catchy tune that pushes both Southern rock and alt-country buttons. Like many of the other tunes here, it uses a fiddle and acoustic guitar to set up the melody, and drives home the choruses with keyboard and electric guitar crescendos. "Breathe" is a power ballad that is the closest the band comes to overproduction and playing out of character. It is catchy enough, but has an odd-sounding bridge, overloaded choruses, and a half-step-up outro that recalls Barry Manilow. Lead guitarist Sergio Guitierrez shines throughout, and "Brand New Dawn" gives him a chance to stretch out on a laid-back number, he nails it. Things are slow and quiet for "Not Really Mine," an intimate ballad about a young daughter growing up, "Sitting on a fence, counting up stars/ She says, daddy, which one is ours?"
Rustic makes a strong case for the Clay Colton Band as polished pros who seem to bring the best out in each other. For rock and country fans, it's a must-have.