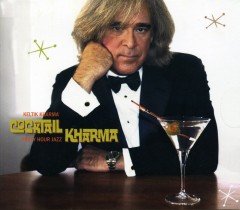 Chris Vitas and Fred Benedetti formed Keltic Kharma in 1990, and on seven CDs since the versatile local violinist and guitarist have played music ranging from traditional Celtic-inspired jigs and shanties to shimmering, ambient New Age music, most with a full quartet that includes Jeff Pekarek on bass and drummer Duncan Moore.
Cocktail Kharma is their new one, subtitled "happy hour jazz," continuing in the same vein as 2009's Kharma. This time around, they are augmented by superb local flutist Lori Bell, who also contributes piano to many tracks. Of the nine tracks here, Bell co-wrote four of the five on which she appears, resulting in the band's filled-out dynamic with her, without losing the music's ethereal quality. The overall recorded sound is often murky and crowded, often burying Benedetti and Pekarek in a sea of reverb.
Ralph Towner's "Icarus" sets things up: ensemble playing with the violin and flute as one soaring voice, which makes a statement over the top of keys and percussion, only to have first Bell then Vitas break into explorations that dance in the air, then rejoin, with Bell's skill amazing throughout. On "Cosmic Indifference" the melodious hook is again used as a jumping off point for an early solo by Vitas, then a later one by Bell, as this disc may be pegged New Age but does not lack for improvisation. The four chords of the James Bond theme are transformed into the basis for "Pearls of Trinity," and again the layered keys, flute, and violin join for an almost hypnotic effect.
"Synthetic Reality" has a cleaner mix than earlier tracks and manages to fit Benedetti in while still using the unearthly sound of Bell's flute lines to good effect; on this tune especially, and several others, are moments when the vibe of violinist Jean-Luc Ponty's late '70s albums can be heard, as can snippets of Tim Weisberg's discs with Tim Fogelberg. Gregory Page provides a vocal to the last verse of "Reality" and a fully sung version of the tune closes the disc. "The Kharma Equation" finds the Bell-less group laying down a mellow jazz groove with Benedetti taking solos, Renata Bratt's cello filling out the sound, and Vitas cutting loose his best playing on the disc. Clearly able to play fiery scales at breakneck speed if needed, he instead wisely decorates the song with trills and phrases that fit the mood established by the melody, with just enough flash. Perhaps the closest to fusion jazz of any track besides "Synthetic Reality" is "Visions of Infinity," which arrives on a cloud of cello and keyboards with an airy violin crescendo, then shifts with harder-hitting bridges – one that gives Benedetti some room to cut loose.
Cocktail Kharma takes a few listens to fully appreciate, to soak in the subtle differences between songs and approaches in an album that does not vary much in tone or intensity. Jazz fans who take the time will find an amazing performance by Lori Bell and some inventive and rewarding music by Keltic Kharma.
Keltic Karma CD release on Sunday, June 30, 7pm at Dizzy's @ SD Jet Ski Rentals, 4275 Mission Bay Drive, San Diego.