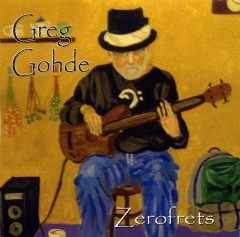 With 13 original compositions and covers on his new CD, Zerofrets, local bassist Greg Gohde calls out to the world to witness the awesome power of a fully operational fretless bass guitar.
Gohde gave himself a daunting challenge with this recording – to produce an entire CD of bass guitar, an instrument usually relegated to a position of support to other instruments, with no other accompaniment. No guitar, no piano, no drums, no overdubs. There is nobody singing, nobody snapping his fingers or clapping along. Zerofrets is one fretless bass plugged into an amplifier. One bass, one amp, that's it.
In the hands of a lesser musician, this could have been an experiment in tedium. But Gohde is an outstanding bassist. He has a great sense of time yet has the ability to play his instrument fluidly and give a great sense of melody. He also spices up his playing by incorporating overtones, glissandi, double stops, and other techniques. The recording is a real joy to listen to.
Before I go on much further, I believe I should explain Gohde's instrument. Leo Fender developed the first mass produced electric bass guitars in the 1950s. Leo put frets on them, just like a guitar. As the frets gave the bassist the ability to more easily intone the notes on the bass, Leo called the instrument a Precision Bass.
A
s with any development that lends more accuracy or precision, some of the beauty of the bass was lost in the process. Gone were the rich timbres produced from fingers meeting strings meeting fingerboard. The fretless bass can also produce glissandi and effects that its fretted cousin cannot.
Opening the disk is "Tonopah," a bluesy and sprightly tune by local blues legend Robin Henkel. Two original tunes, "Sunday Night" and "Lazy Monday," both soulful and introspective, complement each other and give an idea of the ennui that comes at weekend's end and the slow start that often comes at the week's beginnings.
To the genius of Bach Gohde adds a light touch of swing as he interprets the classical master's Boureé, as well as his minuets. I hear a little influence of Colin Hodgkinson, who turned the whole idea of the electric bass inside out with his British soul funk jazz trio Back Door, as Gohde plays Bach's prelude.
Among the most beguiling songs ever is the Beatles' "Blackbird." Gohde mines the seemingly simple tune's well-developed harmonic motion and complexity to a fare-thee-well, simultaneously suggesting a bass line while hinting at the melody. This tightrope walk of comping bass line and melody Gohde repeats for the soul classic "Mercy, Mercy, Mercy."
Some of the most melodic lines of the disk come from Gohde's interpretation of Peter Green's "Man of the World/ Albatross." The Fleetwood Mac guitarist composed these selections at the height of his talents. Gohde closes the disk with his composition "Blues for Maggie," a thoughtful and sweet tribute to his dog that passed away.