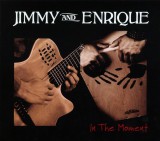 In the Moment is world music by San Diego area guitarist Jimmy Patton and percussionist Enrique Platas (as Jimmy and Enrique). The new album covers a lot of musical geography, especially for a disc that limits itself to just Patton's nylon-stringed guitar and Platas' cajon, hand drums, and cymbals. With considerable national renown for his prowess, Patton has appeared with many local performers, and on his 2009 solo CD Time Travels. Platas, a Mexico City native, has been a busy session and tour musician on both sides of the border for years. Last year, they toured Colombia together and the international flavor is easily heard in their music.
A combination of first-class recording, imaginative compositions, and virtuoso playing make the project work, and by shifting the musical moods and textures, keep the listener engaged. Nice work by Patricio A. Pickslay (producer) and Lotus (engineering/mixing) interweaves Patton's variously quiet and bombastic guitar moments and Platas' adventurous beats, giving each spots in the foreground and good balance.
Patton's guitar is the vox of the duo, and he shows the ability in just a few tracks to both burn nylon with his double-down speed scales and express lyrical subtleties that move the songs from one idiom and continent to another. "Las Dos Viboras" starts off, appropriately, the two snakes: it's a headlong Latin charge with solo passages of notes coming at breakneck speed. Softer percussion on "Midnight Snack" gives it a loping jazz rhythm, decorated with tasteful Latin-influenced melodies by Patton.
"Sandstorm" takes a detour to the Middle East for its vibe. Great percussion riffs abound as Patton picks his strings up against the bridge to get a staccato, oud-like sound while his strums beneath convey drone and sitar, and tastes of Algerian modes in the solos help make this a highlight. An island feel predominates "Calypso Coronado," which adds a deadly catchy melody to a Jamaican-hand drum beat. "By the Window" is softly realized jazz, less exotic than most of the other music here, but shows both of the principals capable of delivering a mellow message. Not so with "MJ," which has a funk beat and bass line (without a bass, but with some nifty work by Patton). Over this pulsating groove, he alternates between the melody riff and crisp funk-jazz soloing.
For "The Phoenix," Platas lays down a gypsy dance beat and Patton puts on his flamenco hat. While avoiding overplaying, he fills the air with notes, mainly using rapid fire, muted picking similar to Al DiMeola's early acoustic style (albeit on steel strings). It is a standout track. A soft, classical/flamenco piece of solo guitar closes matters, "Romance Final," both a chance for listeners to catch their musical breath and a showpiece for Patton's talent in a traditional setting.
In the Moment works as world music, acoustic/Latin jazz, and as a guitar aficionado disc. Jimmy and Enrique are two very talented musicians, complementing one another for a great listen.