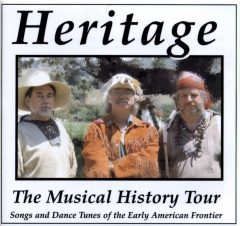 Traditional folk (or "old-time") music is an important part of our American culture and history. In the 18th and early 19th centuries, the explorers, fur traders, hunters, and homesteaders who settled the North American continent entertained themselves in camp and at social gatherings by playing folk songs and sea chanteys with basic instrumentation, usually consisting of no more than a fiddle, four-string banjo, and improvised percussion such as a pair of wooden spoons. The three-man musical group Heritage, based in San Diego, pays tribute to not only the ballads and dance tunes of that era, but also the original arrangements and even the period outfits of the early pioneers.
Heritage (www.larryedwards.com/heritage), consisting of front man Larry "Friar" Edwards (fiddle, vocals), Chuck "Strummer" Preble (banjo, guitar, mandolin, flutes, vocals), and Mike "Hat Man" Robinson (spoons, other percussion, vocals), have been playing together since 1999. They perform wearing historically authentic attire at venues throughout San Diego such as the blacksmith shop in Old Town. Edwards says that Heritage produced The Musical History Tour for fans "who have been asking for a recording of our music for several years now." TMHT is available at New Expression Music or CD Babyonline.
TMHT contains 16 tracks, 15 of which are traditional folk songs, ballads, dance tunes, sea chanteys, or minstrel songs: "St. Anne's Reel/Liberty" (instrumental); "Old French" (instrumental); "Rosin the Bow" (vocals by Preble); "Leather Britches/Ebenezer" (instrumental); "Gum Tree Canoe" (vocals by Preble); "Sally Ann" (instrumental); "Coming Through the Canebreak/Mississippi Sawyer" (instrumental); "Shenandoah" (vocals by Preble); "Cuffy/Turkey in the Straw" (vocals by Robinson); "Flop-Eared Mule/Grasshopper Sittin' on a Sweet Potato Vine" (instrumental); "Gentle Maiden/Pretty Maid Milking a Cow" (instrumental); "Golden Vanity" (vocals by Preble); "Soldier's Joy" (vocals by Edwards); "Damon's Winder/Yellow Barber" (instrumental); and "Wayfaring Stranger" (vocals by Preble). Even the song titles are picturesque. TMHT also contains an original composition by Edwards, titled "Manitoulin Thunder," which is a foot-tapping fiddle tune blended with the 16th century melody "Greensleeves."
The background of the songs is as rich with history as the songs themselves. "Shenandoah," a 19th-century folk song, is dedicated to Sacagawea, the Shoshone woman who joined Lewis and Clark in 1805 and saved the expedition from a potential massacre. "Old French" is a French-Canadian tune dedicated to Pierre Cruzatte, the one-eyed fiddler with the Corps of Discovery who shot Meriwether Lewis in the buttocks after mistaking him for an elk.
Heritage's goal, according to Robinson, is for the listener to be able to close his eyes and "imagine sitting by a remote campfire or attending a frolic or barn raising." In this, the group succeeds, even without the visual benefit of period outfits.