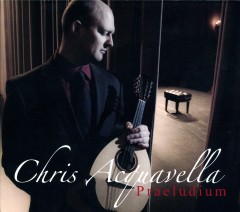 Chris Acquavella is one of the most accomplished musicians in San Diego, and his first solo album, Praeludium, recorded locally at Studio West, displays astonishing virtuosity, but chances are good that you have never heard of either. Nor, to be honest, had this reviewer until the disc arrived in the mail. I was surprised to learn that the mandolin, usually associated in the public mind with folk or bluegrass, is also played in "classical repertoire." In fact, Vivaldi and Mozart composed music for the mandolin, which has an array of works dating to the 16th century. The solo mandolin has a haunting quality, as expressive and versatile as the violin or guitar. Depending on the tuning, the mandolin can sound like a harp, harpsichord, or even a bell chime.
Acquavella, a former rocker (who also spent time in bluegrass, celtic, and punk, and who also specializes in classical guitar), is an award-winning master of the mandolin, having earned a degree (with First Class Honors) from Trinity College of Music in London, studying under the late Alison Stephens. [Acquavella has performed across America and Europe both in a solo and chamber music capacity with some of the world's most acclaimed musicians, such as Avi Avital, Alon Sariel, and Jeremy Kurtz.] The eminent instrumentalist David Grisman provides a liner note that states "Chris delivers powerfully emotive performances that pay homage to their historical origins through his own uniquely personal mandolin voice." In other words, Acquavella is to the classical mandolin what Yo Yo Ma is to the cello–an unsurpassed virtuoso.
Praeludium contains 20 works, from the baroque period to contemporary, not all of which were composed for the mandolin. Acquavella selected the works specifically "to introduce new audiences to this wonderfully charming music performed on my favorite instruments: the mandolin and baroque mandolino." The works are played solo–without accompaniment or any sort, just Acquavella and his instrument. Even a novice listener quickly develops an appreciation for the unique tonal qualities of the mandolin and (with the aid of excellent liner notes) the range of period-appropriate techniques Acquavella uses to produce different sounds, including duo-style, glide stroke, tremolo, and arpeggios. Acquavella demonstrates breathtaking precision; each note is individually struck. The music is elegant, intricate, evocative, and likely different than anything the listener has heard before.
Highlights: "Fantasia No. 1" by the Japanese composer Takashi Ochi is influenced by the Romantic Italian School. "Captain O'Kane" by 18th century composer Turlough O'Carolan is a baroque piece composed originally for Celtic harp. Bach's "Partita No. II in D Minor," written for the solo violin, is a tour de force, combining three movement into a suite. "Serenata Op. 2" by Jiro Nakano is another Italian-inspired work for the mandolin by a Japanese composer. "El Duende" by Juan Carlos Munoz is a flamboyant Flamingo piece. "Diferencias" by Victor Kioulaphides is based on an old Sephardic song.
Praeludium is an excellent intro to the classical mandolin, and to Acquavella.