JIMBO TROUT & THE FISHPEOPLE: A Happy Hour of the Mind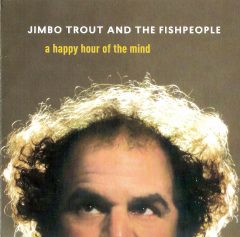 When an album is titled A Happy Hour of the Mind, there is a tip-off that the object of the music is a good time, and in the case of JimBo Trout and the Fishpeople, there is also no attempt to restrict the music within genre boundaries. This eight-member San Francisco band includes three fiddlers and no drummer, and they add four more guest players for the new disc, playing a loose mix of ragtime, bluegrass, western swing, jug band, New Orleans blues, and almost everything else.
There are 14 tracks, including four instrumentals; all but one are covers of traditional roots, country, or blues standards. The songs feature arrangements that lump multiple musicians together for an old-timey feel, with Trout's unconventional vocals adding another extemporaneous vibe. The mix gets cluttered in places; often there are several instruments laying down decorous licks at the same time during the songs — as might be expected in a band with eight instruments playing songs that average three minutes.
The opener is "Alabama Jubilee," with triple fiddles and clarinet weaving a familiar ragtime melody, like many of the tracks here it has a brisk beat and the instrumental work on guitar, clarinet, and fiddle is sharp — and it is over before it can sustain much of its impact. "Sally Goodwin" is a Traditional bluegrass banjo tune, and here is given a filled out, square-dance arrangement that is a highlight, it makes the listener want to get up and start to do a jig. "In the Evening (When the Sun Goes Down)" falls flat, an old blues that Trout sings with his gruff, affected vocal, overdoing it, while harp, mandolin, and fiddle joust for position in the background.
There are some hot fiddle instrumentals on this disc, and the best is "Katy Hill," with Leif Karlstrom cutting loose. Next up, it's off to the races again, as "Mountain Dew" is another go-like-hell bluegrass stomper that has fiddle, guitar, and banjo, as well as some nice moments of pedal steel — a highlight that is over too soon at two and half minutes. "Bye Bye Blues" is an old jazz standard, this instrumental version takes a swing jazz approach with a Stephane Grappelli-flavored fiddle break by Karlstrom, a dobro solo and pocket trumpet that give it a twenties flavor.
"Hesitation Blues" has lyrics familiar from a number of blues tunes, and the band gives it an injection of zydeco, adding accordion and a horn section that sounds like it might be marching down a New Orleans street. The band keeps this texture going on the next tune, the standard "Milk Cow Blues," which combines the horns with Bob Wills-style triple fiddles and pedal steel guitar. It makes a unique combination of flavors — not many tunes have both trombone and pedal steel solos. The disc wraps with another New Orleans-style song played with full horns, guest piano playing and fiddle on "St James Infirmary Blues," one last chance to give several members another shot at a solo.
A Happy Hour of the Mind has lots of old-time, good-time sounds for lovers of roots music.