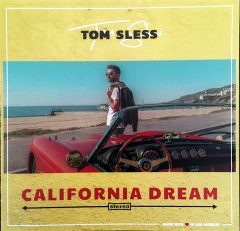 California Dream is the debut album by Tom Sless. The New Jersey native headed to LA six years ago, to write and sing country songs, and his album includes some crossovers into heavily produced pop. An eight-track collection of tunes divided into two "sides," the LA-recorded album scatter shoots its topics and styles as Sless plays guitars, organ, and percussion and does the lead singing and some of the backup vocals. He is backed by a large crew of LA studio players that include a full brass section, pedal steel, and a three-singer backing chorus. Sless wrote or cowrote the music, co-produced, and did the arrangements, and the artwork contains all the lyrics-which on most tracks surpass the standard clichés of much modern country.
The title tune opens, and even Sless' website compares its Springsteen vibe to his "Jungleland." No harm trying to hit a home run first try, and aside from being derivative, it is a strong, if overproduced, magnum opus that serves as a sort of autobiography of Sless, the musician. The song has massive build-ups and crescendos, as it should to echo the Boss, even though Sless' vocal is more reminiscent of Billy Joel. The country part of the album starts with "Taking Me Back," and it is a pleasant mid-tempo track that works the outsider angle, as acoustic guitars and pedal steel lay down a groove while Sless sings his breakup tune, "My Suitcase Is Nothing but Dead Weight/Full of Memories I Can't Use."
"Astronaut" ventures back into pop territory, with introspective lyrics about how if no one jots down his history, he might fade from memory. Back to country themes for "Ready To" about his finding himself in smoky bars, playing poor-paying gigs and learning that the time to take it to the next level has come. Of the country tracks here, this is the highlight.
"Why Oh Why?" has some necessary social comment about the senseless 2018 mass murder of 13 at the Borderline Bar and Grill in Thousand Oaks—with the added character of being written and sung by an artist who cut his musical teeth playing country bar gigs in greater LA. It has full brass, choirs of backing vocals, and hammers its "Why oh why" chorus over and over, with lyrics about a "A broken man got lost in his fury/ And a community paid the ultimate price." "Give Me the Breeze" picks up the tempo, and adds organ along with more hefty production to focus on Sless in the persona of a working man who makes his living behind the wheel; he has regrets but longs to break the bonds of his nose to the grindstone existence, and…fly, "All I need is the wind to send me where I need to be." The set closes with "Too Much on My Mind," another winning country number with everyone in the studio on board, as nice harmonies set it apart.
Tom Sless makes his definite mark in the country music scene with California Dream.