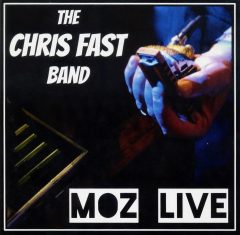 Moz Live is the new album by the Chris Fast Band, who have been gigging all over SoCal. The blues quartet is fronted by Fast on vocals and harp, and the new disc was cut live in Laguna Beach. The ten tracks are blues combo standards (at least half by Little Walter), the idea was clearly to capture the band in its element, doing Chicago style blues in an unhurried but tight style. It worked.
The band includes Fast, Steve Wilcox on guitar, Don Skelton on bass, and drummer Al Schneider; on one track Dana Duplan handles guitar and Troy Sandow plays bass, while Marcus Bashore mans the skins for three songs and the crew adds Johnny Viau's tenor sax on several. The set is a relaxed batch of tunes that last over 70 minutes and give the bluesmen here plenty of chances to display their chops, while the vibe includes some reverence for the original versions.
Fast sings like what he is—an old pro—and he handles the front man work like a dude who knows a thousand blues chestnuts; his harp playing is full-bodied and avoids unnecessary flash, like acknowledged Chicago harp masters Little Walter, Junior Wells, and William Clarke. The set gets started with Percy Mayfield's "The Flirt" as the band gets its bearings on a swing number. The bouncing bassline keeps the foot tapping as Fast tosses off a couple of verses and the players get down to blues business, with Wilcox and Fast digging in: "Well the police came and busted right in/ I was getting friendly with a bottle of gin/ Woman looked at me and said real sweet/ Don't worry baby those are my flat feet." The crew then jumps in for some Little Walter standards, and "You Better Watch Yourself" is smooth as top-shelf whiskey, with Fast taking a couple of solos to sandwich Wilcox's break. For "Up the Line" the chords are a little bit jazzier, but it has a great hook and plenty of room for the harp to lay down a lyrical line of its own, before Wilcox moves in for some upper register string work and Skelton takes a couple of bars of bass soloing.
For "Last Night" things slow down, as Duplan and Sandow go to work on a 91/2 minute 12 bar, and Viau gives proceedings a boost with his horn, adding fills throughout, and launches a nasty solo that flies. When it is his turn, Duplan lays down clean, expressive lines that flow with the groove before Fast powers into his most energetic harp work on the disc.
The rest of the program includes more familiar classics, including BB King's "Early in the Morning," with more riffing from Viau and Wilcox adding some reverb to his fretwork. Late in the set, more Little Walter standbys like "Mellow Down Easy" before wrapping with Wells' "You Don't Love Me." Moz Live is a blues treasury played by cats who can do it in their sleep, but remember to add passion.