PONY DEATH RIDE: The First Leon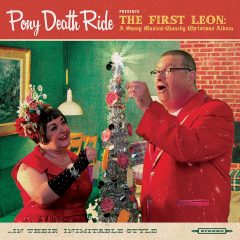 If you're the sort of person who likes your sacred cow carved up and served well done, this is the Christmas album for you! The husband and wife duo of Joe and Jaye MacAskill, who call their musical comedy act Pony Death Ride, present a collection of twisted Yuletide tunes aimed at "people like us, people who really don't know what it means to have a normal Christmas." As Joe explains, "It's a really different kind of holiday record. Both our families are fairly dysfunctional, so we never run out of material." It must be stated from the get-go that this will not be for listeners with more refined sensibilities, as the lyrical content often takes many excursions into "colorful" territory in terms of subject matter and vocabulary. So… be forewarned: unwrap your cynicism and sense of dark humor or don't push the play button!
The album opens with a vintage radio program introduction that irreverently inserts Pony Death Ride into the same lineup as  Bing Crosby, Peggy Lee, Johnny Mercer, Lena Horne, and a host of other venerated entertainers from years gone by, thus setting the tone for what will follow. A quick perusal of some song titles will confirm that this will be a most unusual trip through the holiday season. "Your Baby Is Ruining Our Christmas," "Cold Blooded Christmas," "Ugly Sweater Christmas Party," "All I Want for Christmas Is a Divorce," "There's Just Too Many D*cks Here at Christmas"…need I go on?
A great deal of stylistic territory is covered in their quest to spread their unique brand of cheer. Sweet ukulele chords and sparkling glockenspiel set the stage for the sardonic "Nothing Beats Old People at Christmas". Punk/New Wave rhythm guitar chords drive the familial lament of "Ancestry.com." "It's a Tom Waits Christmas" takes its cue from the titular character's trademark style with a bar piano backing a whiskey-soaked vocalist singing about world-weary characters at holiday time. "Ugly Sweater Christmas Party" is a full-on heavy metal romp complete with heavily distorted guitars, pounding drums and rapid fire vocals. They may have gone too far for some listeners with "Cold Blooded Christmas," which is presented as a happy carol while it relates the grisly story of the murder and dismemberment of Santa Claus. As I listened there were a number of occasions that dropped my jaw and caused my eyes to bulge out. But what the hell… if you've gotten this far into the album you are probably already guilty of snickering along with Pony Death Ride.
It's all executed with great production value. The musicianship and vocal performances are enthusiastic and competent. They effortlessly shift gears to many musical styles and do so with authenticity. Spoken word interludes are sprinkled throughout to further illustrate the macabre merriment and the comedic timing is spot on. The quality of the recording is excellent too, with voices, instruments and sounds mixed exactly where they need to be to have their intended effect. In all honesty, there will be no middle ground with this album. Some listeners will be totally onboard and  laugh at the dark absurdity of it all. The more reverent or easily offended would probably want to take a pass on The First Leon. As in all things, your mileage may vary.