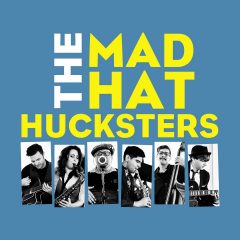 The Mad Hat Hucksters got their start in 2015 and have been playing and releasing swing dance music—primarily acoustic, horn-driven music from the 1930s club era. Their newest disc is Live at the Firehouse, a collection of tunes recorded at a show in March 2019.
The band includes bandleader Morgan Day (vocals, washboard, drums), Lindy Edwards (vocals, tenor sax), Nightshade Navarro (clarinet, alto and soprano sax), Michael Till (electric guitar), Anthony Marca (rhythm guitar), and Jeremy Eikam (bass). The 18 songs are a generous batch of covers of swing jazz, early R&B, and traditional songs by such stalwarts as W C Handy, Django Reinhardt, Fats Waller, and Duke Ellington, mixing instrumentals with vocals. It is pretty much a concerted effort to turn back time and place to small clubs 85 years ago—with artwork showing the beats per minute of each tune speaking volumes; while 11 of the tunes last over four minutes, and eight have beats between 160 and 180 BPM, the disc isn't really repetitive.
The set kicks off with "Study in Blue," also covered on the band's 2017 Swing and Jazz Music for Dancing CD, played big band style, giving way to Handy's "Hesitating Blues" with nice alto sax moments and introducing Day's vocal approach. Then, the various other members each take a few measures to flash their chops. Edwards gets the first nod on vocal for Waller's "Crazy About My Baby," as she and Navarro trade sax riffs and Eikam gets a few bars of soloing in. "Minor Swing/Bei Mir Bist Du Schoen" is a tasty piece of brisk swing music à la Django, giving Till a chance to let loose on the frets before the sax and clarinet get their turn, it stands out as a unique period piece with Parisian flavor.
"Everybody Loves My Baby" has the hottest beat on the disc (235 BPM) and the crew takes the opportunity to do some flying, again having fun. Traditional jazz is served by a reading of "St. James Infirmary" with Day growling the vocal nicely and the horns adding a Dixieland funeral vibe to proceedings. Till plays some lovely jazz guitar to set the tone for "Rose Room," a mid-tempo highlight that slows things down a tad, while keeping the foot tapping. "Sunnyside of the Street" has a similar pace with Day back at the mic; it is nearly six minutes long as the formula with each member taking a few bars to solo draws the tune out a shade too long-but it is a dance song, after all.
Edwards is back to inject some sassiness into the vocal for "Some of These Days," then answers Navarro's riffs with some nice tenor sax. "Douce Ambiance" is another Reinhardt tune that features Till, and the instrumental launches the rest of the band into swing solos, including some bowing on the bass by Eikam. The set wraps with Ellington's "C Jam Blues" with each of the principals using the opportunity to show off more of their instrumental dazzle, then a verse of gruff vocal from Day to tell everyone to go to "Duke's place."