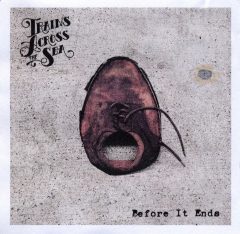 Trains Across the Sea got started in Columbus, Ohio in 2007 (nearest sea 530 miles) before relocating to San Diego and releasing Before It Ends. This is Andy Gallagher's band, and a lot can be learned from logging on to their website, like a shot of him reading a book in front of stacked skulls and bones; below it says "Reading is cool, Since July 2007, newest first" and lists nearly 200 books that cover the artistic and intellectual spectrum from Nabokov to Roth to Orwell to Vonnegut.
Gallagher writes songs and lyrics, too; he is the lead singer, pianist, and guitarist. Other players on the ten tunes include Matt Gochenauer (bass), Keith Hanlon (drums), Kevin Ashba (organ), Jack Doran (piano), and Corbin Pratt (steel guitar, guitar). It very much bears Gallagher's imprint–that of a thinking person's lyricist with many autobiographical hints in his music.
"New Band" is about Jackie moving to a new town and getting a new music gig, rocking away as it maps out the strategy–from recruiting a drummer, to open mic, and getting a lousy bar gig where her nascent group are ignored. No pot of gold yet, but she still has the fever. Next up, "I Choose You," is a treasury of clever lyrics, a mid-tempo pop song that finds Gallagher telling a prospective girlfriend, "If you let me let you down once in a while, by the morning I'll have found a way to make you smile." He admits he isn't the guy who drinks in moderation or picks her up on time, but he willingly offers himself–t-shirt, jeans, and all. "You and I" seems like the answer to "Choose," the breakup shuffle about how the couple are now ready to split, "At least we never said I love you," after having a period of harmony that ended with the sad sighs of Pratt's pedal steel.
The title tune is a magnum opus protest ballad, and a wordsmith like Gallagher misses few opportunities as he checks off a thorough list of today's problems. From "white guys with his guitar and his mediocre love songs" to our esteemed national leadership, trashed environment, and cell phones–he tells how we need action and "strong women to raise strong girls." It is a highlight that makes its points but doesn't preach.
The most musically interesting piece is "We Don't Belong," which blends haunting grand piano riffs with lovely steel guitar accents, while thought-provoking lyrics about the world and universe quietly float by. A soft, catchy song, "Rescue Me," has Gallagher laying down his reality for a female companion about his issues with the bottle, and "though I know I've got free will, genetics are a climb uphill." The set wraps with "Breathe in Deep," a country ballad about settling down with a woman–whom he knows he will "always fight"–for the purpose of making a baby and slowing down the bar scene, "baby, if you are ready will you be my home?"
Before It Ends is a great listen for roots lovers.