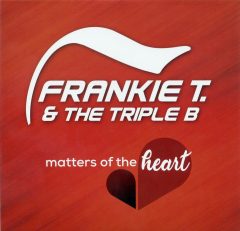 Matters of the Heart is a new EP by Frankie T & the Triple B, a local funk/blues combo fronted by guitar/vocalist/ songwriter Frank Tranfaglia, and noteworthy for commitments to organ and a horn section. Tranfaglia has some fiery guitar licks in his holster, and works them into the tracks. The opener and highlight, "Hurricane Pearl," takes a Hammond/guitar lick and adds some rather tasty horns, punching home the message about his big bad girl, making a tune way better than one would expect on a blues combo album.
Tranfaglia is not a monster singer, but he gets the job done, and when needed, there is backing help; the horns help crank up the power on "Good Man Go Bad." The guys go roadhouse boogie on "Man You Should Please," a stomper that tosses off a couple of verses then gets to the business of soloing–first Tim Felten on organ, then Tranfaglia carving some catchy scales of his own.
Back to the horns for a seriously funked exercise, "Might See It Coming," a warning about the hazards of living in our crazy world, where there is "a fool for every genius." The stuttering, chunky beat is a dance driver, and the launching point for a nifty sax break and a nice wah-wah guitar shred. The closer is a sort of blues ballad, mid-tempo "Time You Be Going." Not slow enough for an anguished slow blues blow out, it frames even more lead guitar. Matters of the Heart is a good listen by a full band of pros.