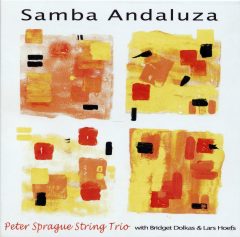 San Diego-based guitar virtuoso Peter Sprague has been involved in a rich dialog with string players of a classical persuasion for many years now, and this conversation bears significant fruit on his latest release, Samba Andaluza, a trio featuring violinist Bridget Dolkas and cellist Lars Hoefs, both members of his expanded Peter Sprague String Consort.
I had a hard time believing that Sprague and company achieved the sonics on this remarkable document without using modern multi-tracking/overdubbing techniques–but they did, and that is definitely one of the salient attributes that makes this session sing with such unfettered purity. It's all in the writing, the vision and the flawless execution that these three musicians are able to conjure such an expansive timbral palette in essentially real time.
Right off the bat that impossibly rich palette comes alive on the opener, Jobim's "Passarim," where each instrument layers under and over Sprague's incredibly detailed finger-style harmonies. Suddenly the leader breaks free with a spidery choreography of single notes and classic voice-leading.
"Even Numbers" begins with Dolkas in the lead as Sprague and Hoefs blend colors in support. At a glance, all three instruments seems to sing at once before Sprague embarks on chord-melody exploration, followed by written solos from each of the classically trained players. It is a testament to the power of Sprague's imagination that these solos sound as if they were actually conceived by the individuals themselves.
"Would You Like to Dance?" harkens back to the swing-era aesthetic of the 1940s (it bears more than a passing relationship to "Ain't Misbehaving" by the great Fats Waller.) Sprague's solo meanders freely from bluesy single notes to wonderful harmonizing, and his partners deliver authentic commentary with each voice inching towards the rafters.
The milestone composition comes on the title track. One can almost hear castanets and heels on a well-worn wooden floor as Dolkas emits with soulful, gypsy-like vibrato. Afterward, Sprague explodes with a solo that bristles with taut muscularity as the strings wind in and out of focus.
"Mudra" has a parallel life in a different universe, one that features the remarkable voice of Leonard Patton. I was surprised to hear it reinterpreted as an instrumental, but the incredibly rich timbre of Hoefs' cello really makes the melody sing in a unique and viable fashion. Sprague's trademark finger-plucked arpeggios set the stage, and when the entire trio hits upon the entrance of Dolkas' violin–full on bliss cannot be far away. "Mudra" has always been one of the guitarist's most endearing and enduring themes, and Sprague's solo–drenched in Metheny-esque Americana, constitutes a highlight moment in a disc full of them.
Wholeheartedly recommended.